Buick's Unlikely Resurgence
While piloting the California hills in a new 2011 Buick Regal a few weeks ago, I had a lot of time to talk to some of the brand's best and brightest. It was an illuminating trip with some surprisingly straight — and very optimistic — talk from folks in marketing, communications and even design.
The one thing that stuck out — besides the straight talk and the new, trendy, black Buick jackets they were all wearing — was that the numbers don't lie.
The California drive happened before the release of May's sales figures, which were simply outstanding for Buick. Overall, the brand's sales were up 37.4%, which bested crosstown premium brands Mercury and Lincoln, whose sales dipped 10.7% and 9.5%, respectively. Buick also edged out General Motors' other premium brand, besting Cadillac's May sales by a few hundred units.
The news that Ford is folding Mercury to refocus on Lincoln seems like a good idea, as that lineup is hit-and-miss with above-average products like the Lincoln MKS and MKT not setting the world ablaze.
But what's Buick doing so right? Well, it has dropped all pretenses of catering to its former audience, namely seniors. It's now looking for the younger, post-boomer market. Products like the Enclave SUV and LaCrosse sedan have attracted new buyers, lowering the average age of a Buick owner from 72 to 61. That's a huge drop in the industry but still behind Lexus and Acura, whose average ages are in the 50s.
The new LaCrosse sedan looks remarkably like the Lexus ES 350, one of the best-selling entry-level luxury cars for years. In May, Buick sold 5,452 LaCrosses. Lexus sold 5,115 ES 350s. Over at Acura, the once-fearsome TL sedan sold just 2,925 units. That model hasn't recovered its sales since undergoing a radical and polarizing redesign in 2009.
But all of Buick's success started with a rebadged Enclave three-row crossover in 2008. While the automotive press generally frowns on the art of rebadging — taking one vehicle, slapping another brand's grille on it and calling it something else — Buick took the time to alter the Enclave significantly from the GMC Acadia and Chevy Traverse it shares a platform with. That formula was, and remains, a sales success. In May, the gracefully aging Enclave, at 4,715 units, topped both the similarly priced Acura MDX at 4,064 units and the more expensive, just-redesigned Lexus GX at 1,413 units.
Now the Regal arrives, and Christopher Ayotte, the man in charge of the Regal's marketing, says they can't deliver them fast enough to dealers. We tend to believe him, as the LaCrosse took just 26 days to sell in April against an industry average of 46 days. The ES 350 took 30 days, and the TL took 56 days. Lincoln's MKZ took 58 days.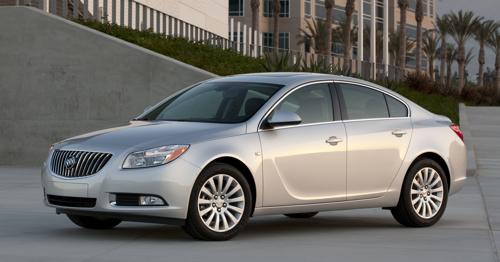 Continuing this success will be tricky. The premium segment is shaky, with Acura and Lexus seeing healthy upticks in May while Lincoln and Volvo decline. Ford's euthanizing of Mercury takes out one competitor and gives Buick a bit more breathing room.
The biggest question for Buick is how it will get the word out there. The brand has halted all golf marketing, including the Buick Open tournament. It ended its Tiger Woods endorsement last year, before the icon's recent fall from grace. The company sees golf as the Buick image of old.
It hasn't replaced that media presence with anything else to date, and it's unlikely we'll see a Buick sponsorship of Lollapalooza anytime soon, either. That lack of brand identity in the marketplace sure hasn't stopped shoppers from buying Buicks, but the nameplate can't achieve lasting success by just producing new products that people want to buy. Can it?