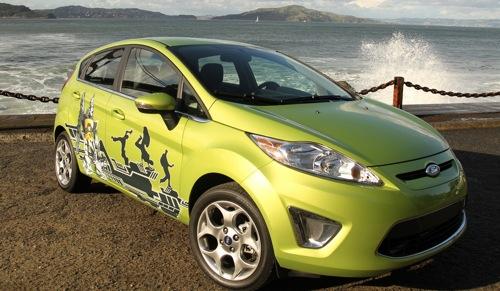 Claiming that its exterior graphics have proven far more popular than it anticipated, Ford will offer customizable decals for all of its cars and trucks by the end of summer.
You know what we mean: camo, flames, dots, stripes, flowers — all the designs that people think make their cars look unique. Ford first latched on to the idea when the graphics proved popular with its Fiesta test drivers; an impressive 70% of them chose graphics for their cars. Its graphics' website, Fordcustomgraphics.com, has received more than 10,000 hits.
Ford spokesman Jim Abraham told the Detroit Free Press that he attributes the trend to a growing desire among young people to "customize products ranging from iPhones to cars."
Ford will first offer graphics for the Mustang and F-150 pickup truck this month and then roll out designs for the rest of its vehicles by summer's end. Ranging in price from $200 to $1,200, the graphics are permanently affixed to body panels. The automaker will wait and see before it offers similar products for its Lincoln and Mercury brands.
We're still skeptical, though. Do exterior graphics interest you? Would you customize a Ford if you bought one? Let us know in the comment section below.
Ford to Expand Graphics in Response to Popular Demand (Detroit Free Press)