Georgia Will Try a Region-by-Region Tax to Raise Money for Roads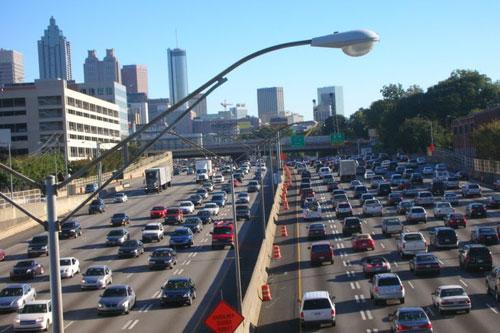 Divided between spacious rural areas and traffic-clogged Atlanta, Georgia has had a nasty time trying to raise taxes to pay for its woefully lacking infrastructure. That's why Gov. Sonny Perdue came up with a transportation bill that divides his constituency to help collect much-needed revenue.
Over the past 20 years, the amount of time Atlanta drivers have spent in gridlock rose fourfold, and they used five times the amount of gas they did 20 years ago. In that same period, the number of drivers during peak hours doubled, as did the area's population. Yet of all states, Georgia ranks 49th in infrastructure spending per capita and has the second-lowest gas tax.
Perdue's bill, which he just signed into law, divides Georgia into 12 regions and allows each area to approve regional transportation projects. An area's residents will vote by referendum on a 1-cent sales-tax increase to pay for the infrastructure projects. The first vote will come along with the presidential election of 2012.
While getting voters to sign off on a tax increase is uncommon, this opens the possibility of making statewide infrastructure projects more difficult to complete.
Divide to Conquer (The Economist)