New Hyundai Spied in Chicago?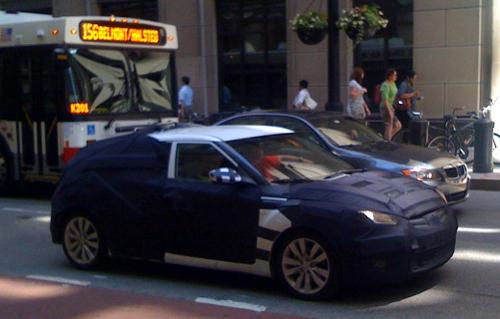 We've joked before
that automakers shouldn't drive by Cars.com HQ in a test car they don't want photographed. Besides the hundreds of employees here with camera phones (thanks to our own Jacque Harper for these), there are also thousands of tourists here this week for Taste of Chicago and the
Sears
Willis Tower.
Using our keen intellect and observational skills, this looks like a Hyundai to us. The wheels give it away because they seem to be those used on the 2010 Hyundai Tucson Limited trim. The grille, even under the cladding, also looks like a Hyundai. But the huge fenders up front are the only thing throwing us off and making us think perhaps it's a Subaru.
What do you think? Could this be the next Hyundai Elantra Touring? Or is it the Veloster two-door hatch? Or something else altogether?
There are three more images of the car below and one of the Hyundai Tucson and Veloster concept.