2011 Hyundai Genesis Coupe Adds 3.8 R-Spec Trim, Interior Tweaks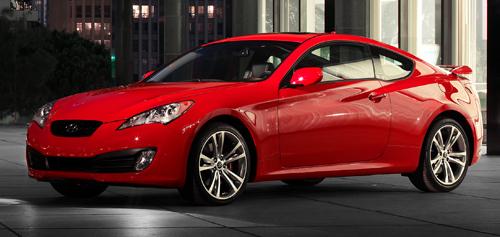 The 2011 Hyundai Genesis Coupe will get a couple of upgrades to compete better against its Detroit muscle competition, including a more refined interior and a new high-performance option.
Inside, the top part of the gauge cluster gets a soft-touch "skin" that is seamless in appearance. There's new soft-touch materials on the door panels, glove box and lower instrument panel. The center stack trim, door handles and air vent bezels get a darker metal-like trim treatment that looks better than last year's faux aluminum look. Plush leather is now used on the steering wheel, and the front A-pillars and headliner are wrapped in a higher-quality cloth fabric.
Functional enhancements include backseat coat hooks, a trunklid grab handle and new graphics for the information display.
The new 3.8 R-Spec trim brings the same track-tuned feel found on the 2.0T R-Spec. The 3.8 R-Spec comes equipped with a 306-horespower, 3.8-liter V-6 powertrain mated to a six-speed manual transmission. There is no automatic option on the R-Spec.
Features include 19-inch wheels with performance tires, Brembo brakes, track-tuned suspension and limited-slip differential. To reduce weight and complexity, some add-ons were removed from the R-Spec, including automatic headlights, cruise control and that dark metal trim described earlier.
Besides these upgrades, the other trims pretty much keep the same equipment as the 2010 models.
Hyundai doesn't break out coupe sales from the Genesis luxury sedan. Only 12,891 of the pair have sold so far this year through June. Collectively, that pales in comparison to the Chevy Camaro and Ford Mustang, which both have sold more than three times as many. Even the Dodge Challenger has managed to move nearly 5,000 more units compared to the Genesis series.
The model has suffered from an identity crisis: Is it a low-cost alternative to luxury performance coupes such as the BMW 335i and Infiniti G37, or does it compete with America's muscle cars at similar prices?
The 2011 Genesis Coupe goes on sale early this fall.
2011 Interior
2010 Interior
2010|Hyundai|Genesis Coupe