AT&T Navigator for iPhone: Review
I've always wondered why turn-by-turn, voice-guided GPS wasn't on the first iPhone, but now I think I know. Having used AT&T's Navigator and many of its competitors, I can only conclude that a full-function consumer GPS is harder to pull off than a 20-year-old tattoo.
Each portable GPS app, service and device has its share of glaring omissions and malfunctions to go along with their inherent utility.
AT&T's new Navigator
is a solid product with a couple of promising features, including one that lets you verbally tell the app your destination and one that lists gas stations by price. On the downside, the Navigator (made by TeleNav) is overly ambitious. It depends on a lot of little and big technological pieces to perform the way AT&T says it will. Not all of those pieces reliably do their part, making the Navigator experience a mixed bag.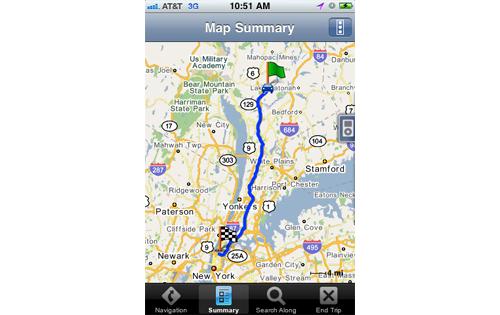 Price
Most people would probably be happier with it if it were free, or at least cheaper. The Navigator costs $9.99 per month —
though AT&T cut that by $3 for July
— or $69.99 per year. These kinds of subscription plans, sometimes called software as a service, are increasingly common for mobile services, and the Navigator's price is comparable to its competitors'. One exception is Sprint's Navigation app (also made by TeleNav), which doesn't charge a separate fee. It's a standard feature of Sprint's mobile-phone data plan, which means consumers buying the Sprint data plan pay for Navigation whether they use it or not.
Data rates apply, of course. AT&T says 30 average routes equal 1 megabyte.
Accuracy
All things being equal, Navigator maps are more likely to be accurate than those used in other portable navigation devices because you never have to download map updates. The graphics are just images downloaded to the app on the fly from centralized computer servers — it's like a YouTube for maps. All subscribers automatically gain access to the most recent maps. Real-time map downloads also make it possible to get live traffic and, sometime soon, local weather reports.
Unburdened by stored maps — which, after all, are memory-hogging data and graphics files — the iPhone can hold more apps and content. Most GPS services store maps on the device itself. Since Navigator isn't connecting to a server for information, map animation is smoother. Of course, with these systems you often pay more upfront and often need to download updates.
A chief downside of the Navigator, if you haven't already guessed, is that you get turn-by-turn directions only when you have access to AT&T's data network. Without that technological piece — the network — you'll be forced to find a real navigator until the Navigator returns.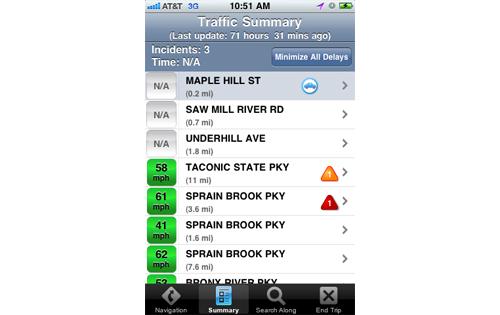 Usability
The Navigator has a wonderfully simple display, but it can still be difficult to read at a glance. Also, the iPhone's beautiful optical-glass screen offers more annoying reflections than a Hollywood autobiography.
The Navigator has one supremely useful feature, though it's still a work in progress. When searching for an address, business or intersection, you can choose to speak the words rather than type them on a keyboard. It's a multistep process in which you actually call a version of AT&T's directory assistance.
I could program an address via speakerphone while stopped at a traffic light, but only because it was a long light and I'd practiced. AT&T's voice-recognition software is among the best in the business, but it was confused often by my requests. The real hitch in the procedure is that the address you ask for is sent to the app's Recent Places list, which is three layers deep into the app. From there, you have to make it your new destination, which requires more clicks.
The Navigator will sort nearby gas stations by pump price, subcategorized by grade, too. This is truly great. I bow in the direction of the person who made this feature happen. But getting to a list of diesel stations, for instance, is four clicks down from the map.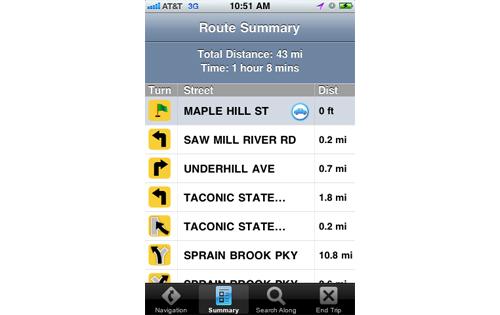 You should subscribe to the Navigator if you want one fewer gizmo in your life: a conventional GPS device. It does just about everything you'll ever need from GPS, including finding cheap gas. It'll work as you walk or bike, too.
Because there is so much competition out there, you may not want to invest in a yearlong subscription, but it's easy to set up a monthly account, and once you have that, you can cancel after a business trio and then restart it for a cross-country driving vacation, with plenty of room on your phone for music, or music apps.
Visit the Navigator's
FAQ
to get more info, including a list of other compatible phones.