Bring It Home, Plug It In: Mitsubishi i MiEV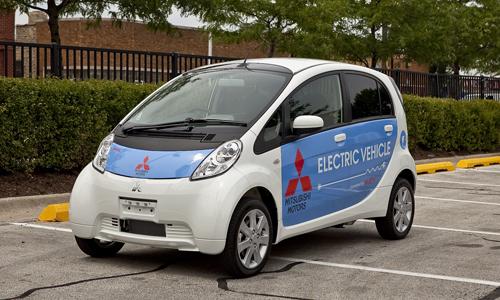 Last night, I did something remarkable when I got home from work. I opened the garage door, parked the car and plugged the car's charger into an electrical outlet in my garage. Mitsubishi is allowing Cars.com to test-drive its all-new i MiEV electric car for five days, and as fate would have it, I'm the only employee who lives close to the office and has a garage with an outlet inside. I'm the first Cars.com employee to take home a test fleet vehicle and plug it in.
As an automotive journalist, I've been listening to auto industry execs say that the next big technological breakthrough is going to revolutionize the industry. After years of hype, speculation and more than enough concept cars, an honest-to-goodness electric vehicle is in my garage. And it works. In fact, it works really well for both my professional and personal life. As a professional photographer and an urban dweller with a small family of three, meeting my standards isn't easy.
Here's what I liked about the i MiEV:
It's nimble and easy to maneuver in and out of traffic, and it's quick off the line at traffic lights.
When looking for parking, the car is short enough to fit in any spot. It's not much wider than a Mazda MX-5 Miata, so it clears almost any alleyway in Chicago.
The i MiEV has a decent amount of cargo room and the backseat folds down so it can carry my cameras and studio gear.
The suspension is soft enough to support my spine over most of the cracks and potholes on Chicago's streets.
It's spacious and comfortable enough to seat four adults for a night out on the town (or two adults, a dog and a child-safety seat for a day at the in-laws).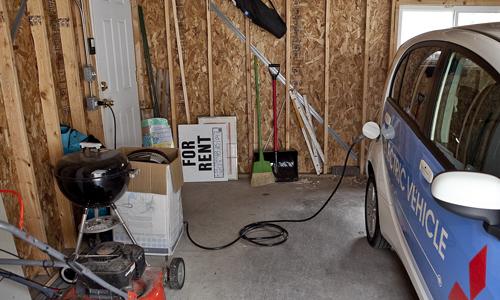 However, there are a couple of things to keep in mind when driving an EV. You'll need to plan your trips with this car because the last thing you want to do is run out of juice and be stranded. You'll also need to worry about pedestrians and cyclists who won't hear you coming in an EV; this car is that quiet. On the flip side? You'll never need to go to the gas station with this car. Ever. That's a decent trade-off for someone like me who lives in a city where the gas price hasn't started with a $2 in close to four years.
Does this mean I'd get rid of my gasoline-powered car for the i MiEV? Not a chance. I wouldn't be comfortable driving this small EV on the highway or for long distances. However, the Mitsubishi i MiEV would be a good choice for getting around town, saving money and being (gulp) green.