'Strangest' Parking Garages Put Others to Shame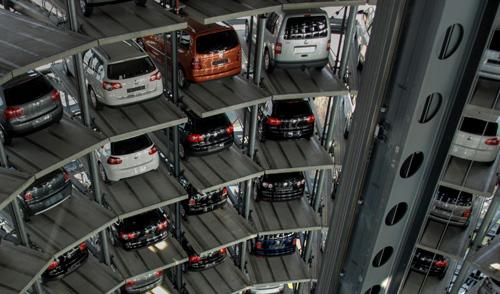 No one would really use the phrase "architectural wonder" when describing a parking garage. These monolithic piles of concrete and steel are so utilitarian in function that most people tolerate their presence as a necessity, which is a far cry from marveling at their design.
Still, some architects had the foresight to design parking garages in ingenious ways.
Examples of phenomenal garage design include Volkswagen's Autostadt in Wolfsburg, Germany (pictured above). This 20-story silo-shaped structure uses a robotic arm to snatch cars and bring them down to their new owners.
Marina City in Chicago — a classic example, made famous in the movie "The Hunter," starring Steve McQueen — is a pair of 65-story buildings with continuous spiraling parking garages and a total of 1,792 parking spaces. Finally, we think one of the coolest garages is a 2.5-mile underground parking tunnel in Cologne, Germany, called the Rheinauhafen Parking Tunnel.
You can check out the other world's best parking garages at Popular Mechanics' website.
The World's 18 Strangest Parking Garages (Popular Mechanics)