2011 Scion tC: First Drive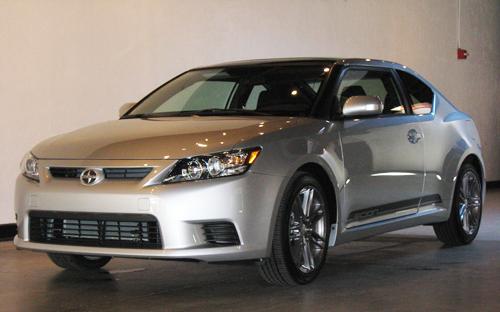 Scion invited journalists to San Diego this week to drive pre-production examples of the new tC sports coupe — the brand's most popular model as recently as 2007 and one whose average buyer age, 26, falls closer to Scion's target youth demographic than the xB or xD hatchbacks. As we just reported, the tC hits dealerships Oct. 1.
Perhaps it's appropriate that the San Diego Union-Tribune reported that the region has just endured its chilliest July since 1933. The front-wheel-drive tC boasts eye-catching styling and a capable drivetrain, but its cost-cut cabin left me cold.
Although its wheelbase and length remain unchanged, the second-generation tC shares its platform with the third-gen Toyota Avensis, on sale in Europe since early last year. An extra 1.6 inches of width — and 2.1 inches of wider rear track — lends a more grounded look, and overall styling follows the Fuse concept shown at the 2007 New York International Auto Show: swept-forward C-pillars, a flat belt line, darkened A-pillars to suggest a wraparound windshield. The headlights bear Lexus similarities, while the taillamps drop the last tC's smoked lenses for a more conventional red. It's a crowd-pleasing, if conservative, design, and it should provide a clean slate for tuners to customize 'til the cows come home.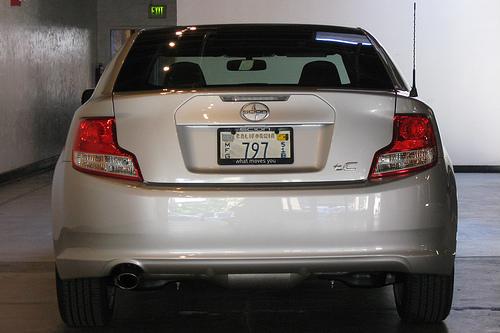 Chief engineer Masayuki Nagai said overall weight is up some 80 pounds over the last tC. But so is power. A 180-horsepower, 2.5-liter four-cylinder replaces last year's 161-hp, 2.4-liter four, with six-speed manual and automatic transmissions instead of the five-speed stick and four-speed auto. Wind the tC out toward the redline, and the engine takes on a loud, unrefined roar, but power is more than adequate for on-ramp merging and overtaking slower traffic. Scion says a stick-shift tC will hit 60 mph in 7.6 seconds, about a half-second improvement over last year. (The estimates appear conservative. In 2005, our tC hit 60 in about the same time as the new one, so perhaps the 2011 is quicker still.) The automatic takes a bit over 8 seconds, Scion says.
Either way, the car is certainly enough fun, and much credit goes to the transmissions. The manual has medium throws, a light clutch and precise placements, and the 2.5-liter's sturdy 173 pounds-feet of torque makes for capable 65-to-75 mph passing in sixth gear, even on uphill interstate grades. Count me a fan of larger four-cylinders in small cars; low-rpm oomph matters. The automatic, meanwhile, upshifts smoothly and downshifts decisively — a departure from too many recent Toyota autos. And thanks to the extra gears, EPA-combined gas mileage is 26 mpg with either transmission. That's up 2 to 3 mpg over the 2010 tC.
The suspension carries over similar architecture as before, but Nagai characterized tuning as "much firmer." With the car's standard 18-inch wheels and thin 45-series tires, it shows. Even around San Diego's relatively groomed roadways, the tC settled into a turbulent rhythm. You feel the pavement, and many will find the setup too stiff. On the upside, the car corners fairly flat and doesn't display a predominance of nose-heaviness.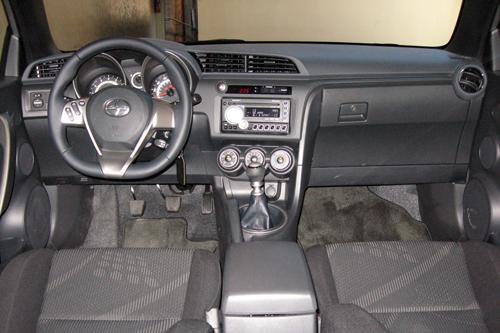 At low speeds, the tC steers with a light touch, but overall response is good, with decent turn-in precision and settled tracking on the highway. The brakes, enlarged for 2011, impart solid stopping power. Performance junkies can opt for larger cross-drilled brakes as well as lowered springs, performance stabilizer bars and 19-inch wheels from Toyota Racing Development. Power upgrades in the vein of the last tC's TRD supercharger won't be available at launch, however. "We are always working with TRD" on forced induction, Scion Vice President Jack Hollis told me.
Alas, the interior disappoints. Given a more utilitarian car — a wagon or crossover, for example — you might make the case that cabin materials matter less. But Scion calls the tC an aspirational coupe. What's inside is crucial, and Scion chose style over substance. The cockpit boasts plenty of contemporary shapes, but it trades the first tC's near-Volkswagen materials for Corolla-grade trimmings.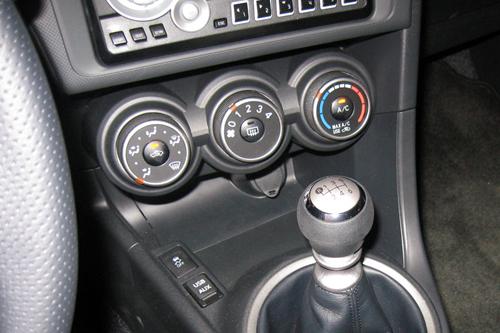 Gone are the padded sections and well-crafted climate controls, replaced by Toyota's latest regime of budget-car interiors — "value engineering," one staffer conceded to me. That means plenty of hard plastics, inconsistent graining from dash to door and crude air-conditioner knobs. (The knobs in particular are tragic because the old tC's were excellent. You used to press a button. Now you adjust a knob – and feel the air louvers rotate behind the scenes. Competitors at this price are better.) The old tC's fuzzy headliner used to extend down the A-pillars, a premium touch uncommon in this segment. This headliner is worse, and the pillars are plastic. Express down/up operation for both front windows, another premium detail from the old tC, is gone. The center armrest lacks any padding; the glove compartment door clatters down undamped. Nitpicks perhaps, but there are dozens of them, and the sum total makes for a cheap cabin, even at this price.
A couple of positives: Like before, the backseat is commodious for a coupe. Save for some short lower cushions, front-seat comfort is good. The steering wheel's fat leather rim fits neatly to the hand, and the panoramic moonroof's retracting sun shades are opaque enough to block out light.
It's up for debate whether sporty front-drive coupes are poised for a comeback, but I'm not convinced this tC will lead the charge. Leave some thoughts below, and stay tuned for a full review.