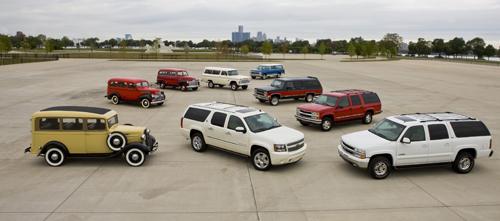 What is the longest-running nameplate in automotive history that's still kicking it today? Is it the Ford F-Series, the Chevrolet Corvette or maybe the Toyota Land Cruiser? Those nameplates, despite being more than 50 years old each, have nothing on the longevity of the Chevrolet Suburban, which just reached its 75th anniversary. In celebration, GM has released a
Special Diamond Edition
Suburban.
The 1936 Chevrolet Suburban Carryall was fairly innovative for its time, featuring an all-steel wagon body mounted on a commercial chassis. Back then, the Suburban had two doors but could still carry eight passengers in three rows. It had a starting price of $675, or $10,990 in 2010 dollars.
Looking at the Suburban's nine redesigns, you see a car that has steadily progressed with time. The model has seen the introduction of hydraulic brakes (1935), safety glass (1937), tinted windows (1953), GM's patented small-block V-8 (1955), four-wheel drive (1957), three-door body style (1967), air conditioning (1965), four-door body style (1973) and airbags (1995).
The Suburban mainly stayed a commercially oriented vehicle, but it slowly gained a consumer audience that exploded during the '90s SUV craze. That SUV mania even spawned a short-wheelbase Suburban; you may know it as the Chevrolet Tahoe.
Overall, the Suburban's evolution is very reflective of American culture over the past 75 years, including our changing buying habits. Today, like in the beginning, SUVs are reverting to being a purchase by folks who need them for towing and hauling. Vehicles like the 2011 Ford Explorer are even trading in their traditional body-on-frame setup — the thing that gives an SUV its SUVness — to stay relevant with American buying habits.
Still, sales of the Suburban are up 43.7% in 2010, and with so few competitors in the full-size SUV category, GM might want to hold on as other entries wither on the vine.
The 2010 Special Diamond Edition Suburban is on sale now, with two-wheel-drive models priced at $55,995 and four-wheel-drive models priced at $58,740.
2010|Chevrolet|Suburban 1500
2010|Chevrolet|Suburban 2500