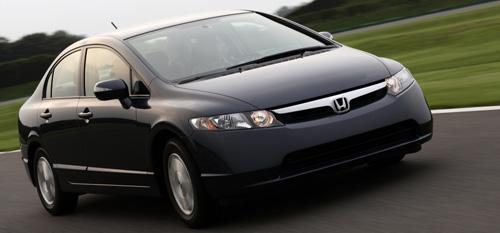 Honda has run into some problems with its 2006-2008 Honda Civic Hybrids, according to the Los Angeles Times. After being on the road for nearly five years, some of the hybrids' battery packs are beginning to fail prematurely. Rather than replacing all of those expensive battery packs, which are mostly still under factory warranty, Honda has issued a software update that should fix the problem, but that fix has also come under scrutiny from some owners.
The software update applies the same battery-management logic systems found on the 2009 and 2010 Civic Hybrids. The new models and the old ones should get the same gas mileage: 40/45 mpg city/highway, according to Honda. However, some Civic Hybrid owners say the new software has made their cars feel sluggish and has slashed their gas mileage by nearly 10 mpg on average.
Honda says the variations are due to drivers' different driving styles. Honda updated the software to help prolong the hybrids' battery life, Honda spokesman Chris Martin said. He also noted that there was no change in the EPA ratings for the Civic Hybrid from the 2008 model — the last year before the software management update — to the 2009 and 2010 models. The EPA did change how it evaluated mileage for the 2008 model year, and that is reflected in the 2008 model's 40/45 mpg range.
Judging from Cars.com's reader reviews — where many complained that the mileage and performance fell below their standards until they learned how to drive the Civic Hybrid correctly — it would appear that there is a learning curve toward effectively driving the Civic Hybrid. And for the folks who have learned how to drive it one way, it may just take some time to adapt to the new software.
Fix for Civic Hybrids' Dying Batteries May Hurt Gas Mileage, Acceleration (Los Angeles Times)