Testing iPhone 4 FaceTime With Chrysler's In-Car Wi-Fi
We can't think of anything that would send chills down the spines of Transportation Secretary Ray LaHood and safety advocates everywhere more than video chatting while driving. While we do not endorse the behavior, two new technologies have made the seemingly sci-fi task possible. The new iPhone 4 has a video-to-video feature called FaceTime, however, both users need to not only have an iPhone 4 but also a Wi-Fi connection. How do you get a Wi-Fi connection into a car? Well, you bolt a Wi-Fi router to one side of the rear cargo area of a 2010 Chrysler Town & Country. That's how. This is part of an optional Uconnect dealer-installed system designed by AutoNet that costs $499, plus another $29 monthly. I've already detailed how you can get similar capability from a wireless data card for your laptop or new mobile Wi-Fi hotspots sold by Sprint or Verizon. However, I liked how Uconnect was installed in the car and couldn't be forgotten at the office, and it didn't need to be recharged.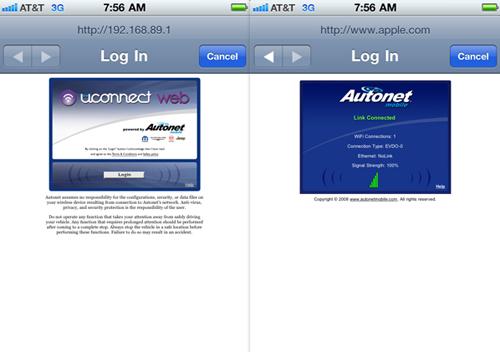 The drawbacks, though, to using my iPhone with Uconnect was an annoying login screen that would launch on my iPhone's Safari web browser after I selected the Wi-Fi router from my Settings menu. Typically, a secured router will just ask for a password inside the Settings menu, not take you to a web browser page.
Next, you need to click "log in" and wait while another screen finally announces your connection. Typically, this process took about 15 to 30 seconds each time I not only got in the car, but every time I unlocked the iPhone. That was the real aggravation with the router and iPhone combo. It did work better with a laptop, but you still would need to log in again every time the car started up.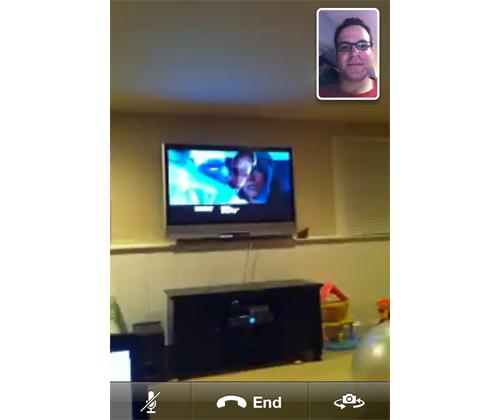 FaceTime worked well once the little Wi-Fi radar icon lit up. I chatted with my wife, who was at home, from the parked minivan down the street. I did not test this while driving since I was by myself throughout the car loan and thought that it would be — unsurprisingly — too dangerous. The screenshot is of my family room as my wife has a firm "do-not-publish-my-photo-on-your-blog" rule.
There was a little delay in the video, which was about the same amount of time I've seen mentioned in online reviews of the new phone, and obviously far from the stunning screens seen in the TV commercials.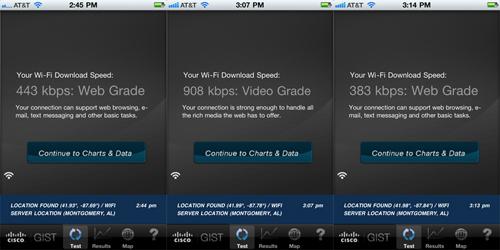 I'd also worry about the Wi-Fi connection and signal strength from AutoNet. I did test that on my 23-mile commute home. Using a free app, I tested the download speed of the Wi-Fi at three different spots. Only one of the tests showed a connection strong enough for video and likely FaceTime. Oddly enough, I tested my standard 3G cellular download speed during the same drive home, and it was nearly twice as fast as the strongest AutoNet Wi-Fi speed, at 1938 kbps versus 908 kbps. However, that seems higher than what the company told us in 2009
when senior editor Joe Wiesenfelder first checked it out
.
The larger question is do I even want to video chat while driving? Definitely not. The extra glance or two of eye contact you'd want to give the person on the other end would be enough to distract you from driving. The expense also seems too high to provide the service for passengers. Is video chat going to become as common as Bluetooth hands-free devices? Or is it too much for the road? Tell us what you think in the comment section below.