U.S. Most Likely to Lead Electric-Car Revolution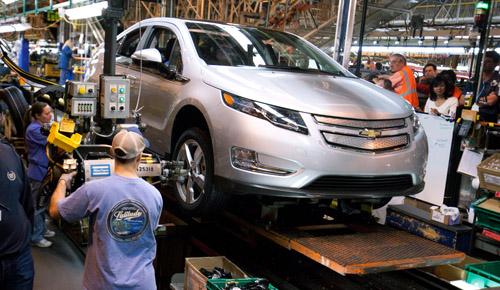 There are many news stories and studies that discuss America's loss of competitiveness, so it's nice to see a study that says we're at least winning at something: electric-vehicle development.
The U.S. is the most likely to spearhead a movement toward electric cars from gasoline-driven cars as a means of mass transportation, according a newly created research index from McKinsey & Company, a global consultancy firm. McKinsey's electric-vehicle index gauges nine variables including consumers' favorability toward electric cars, a segment where America ranks highly.
The U.S. ranked first in the electric-vehicle index. It's ahead of France, Germany, China and other Western European countries, which have all invested heavily into the development of green energy technologies.
While the U.S. is usually behind the curve when it comes to industrial policy (public investment in strategically important economic sectors), the country remains the only one to use public funds to spur the development of EVs thus far.
In 2007, Congress set aside $25 billion in Department of Energy low-interest loans to encourage the advancement of alternative-fuel vehicles, including EVs.
The DOE has made $8.5 billion in loans to Nissan, Ford, Tesla Motors, Tenneco and Fisker Automotive. President Barack Obama also earmarked another $2.4 billion in grants for battery-makers and other electric-vehicle component-makers in 2009. GM has used some of that money to build a plant in Michigan to build Chevrolet Volt batteries. The stimulus package also includes a $2,500 to $7,500 tax credit to consumers who purchase EVs.
While only a few thousand electric cars are on the road today, including the Tesla Roadster and Mini E, the number will most certainly skyrocket in the coming years with the launch of the Volt and Nissan Leaf. Combined, Nissan and General Motors are estimated to have the capacity to build 195,000 electric vehicles a year in the U.S. by 2012.
Some, including The Economist magazine, question the actual success rate of government bets on future technologies. After all, it was only a few years ago that the government was pushing ethanol and hydrogen as the future of mass transit.
US tops electric-vehicle index (Financial Times)
Related
Want to Buy an Electric Car?