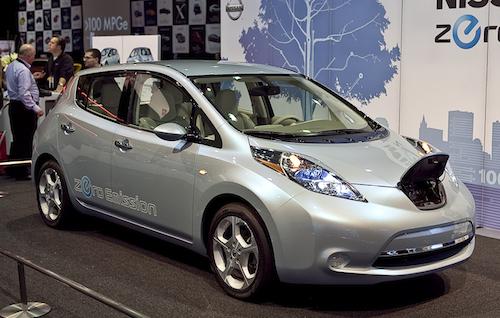 While we await the debut of vehicles like the all-electric Nissan Leaf and the extended-range Chevrolet Volt, predictions abound concerning the long-term outlook for mass-market plug-in cars.
Yet it also appears that these vehicles will launch in a similar fashion to the iPhone: the beneficiaries of enough marketing hype, media attention and interest among green enthusiasts that you may have to get in a long line to actually buy one. Customers could even end up paying more than the MSRP. A recent report had a California dealer trying to charge $20,000 over MSRP for one of the first Volts going on sale later this year.
Consider what will happen as these products debut with ad campaigns that have already begun months before they go on sale. The ads won't actually help sell the first batch of cars because they're already spoken for. The Leaf currently has 16,442 reservations, according to Trisha Jung, director of electric vehicle marketing strategy for Nissan.
"Demand will exceed supply at first," Jung said. Because the Leaf is built in Japan, Nissan must also decide how to split that supply among the Japanese, European and North American markets. "We'll use consumer demand to justify bringing as many vehicles as possible," she said. Given the greener credentials of European and Japanese consumers, this could mean the fewest Leaf vehicles could come to North America, even though North America is the largest market for the automaker.
Meanwhile, GM CEO Ed Whitacre recently announced that the Volt will be launched in more markets, adding New York, New Jersey, Connecticut and Texas (specifically the Austin area) to its initial markets of California, Michigan and Washington, D.C. The Volt will likely sell out in those few markets relatively quickly.
What does that leave? The Tesla Roadster, whose price tag is over $100,000, and the pricey Fisker Karma. Or you can wait until 2011 for the Ford Focus EV or 2012 for the Tesla Model S.
Will the hype, followed by the relative scarcity of these vehicles, create an iPhone-like sensation?
"There's a good chance that could happen," said Tracy Handler, an analyst at IHS Global Insight. "Especially with the Leaf coming from Japan, it might sell for over MSRP. They don't want to get too many on the road. It could also be like the Smart car where everyone who wants one will get one pretty quickly." Meaning, after the initial rush, Leafs could gather dust on dealer lots.
Handler hits on the fundamental question surrounding EVs: That even after all these years of knowing they're on the way, after all the predictions, prognostications and surveys, no one is entirely sure how these cars will be received by the public at large.
"A lot will depend on the infrastructure and what states and local governments are willing to do," Jung said.
This is why Nissan has pursued partnerships with local governments to get as many charging stations up and running as possible. The list includes Arizona (Phoenix and Tucson areas), Tennessee, Oregon, Sonoma County (Calif.) and San Diego. Washington, Oregon and California have also expressed interest in teaming up on an "electric highway" running from Vancouver to San Diego.
Nissan has high hopes for the Leaf because, as Jung puts it, "It's competitive even as gas prices are low. It doesn't need skyrocketing gas prices to be competitive at its price point."
In other words, Nissan doesn't think it has a Smart car-esque fad on its hands that will experience fading consumer interest shortly after a hot debut. Handler believes the relatively low price of gas will be a hurdle for the Leaf and the Volt to overcome.
"With gas prices where they are right now, there's just not a lot of incentive to switch. But I do think the first wave of hype from environmentalists and trendsetters will be significant. It could be a lot like the Prius, where trendsetters made that car a success."
From a consumer's point of view, if you have your heart set on a Leaf or Volt, beware that the initial rush could look more like a stampede. Yet things won't get truly interesting until the novelty wears off, and these new battery-powered cars must face real-world consumer expectations and economic decisions.