2010 Volkswagen Golf TDI: Love/Hate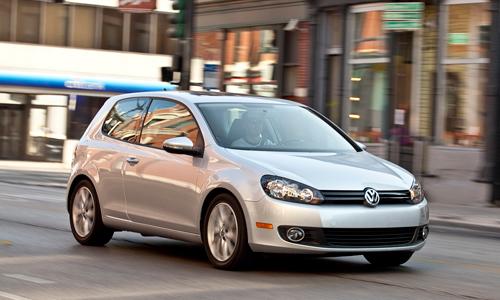 Living in a major U.S. city, I don't tend to pay much attention to the availability of diesel fuel. When I hopped into the 2010 Volkswagen Golf TDI hatchback I was worried I'd struggle to find a place to fill up, but I was glad to see diesel was more widely available — at least in Chicago — than I thought it would be. I even found one station where diesel was cheaper than regular gas! Unfortunately, trying to track down diesel fuel was the least of my problems with this car.
Love: Modern diesel engine
My main exposure to diesel cars prior to their recent reappearance in the U.S. was the sound of my neighbor's early '90s Mercedes-Benz chug-chug-chugging up the driveway. You could hear that thing from a block away. There's none of that clatter with the Golf TDI. The car sounds slightly different than one with a gas engine, but it's no louder than a gas-powered car; it's not even noticeable if you don't know to listen for it. This compact hatchback also has quite a bit of zip, even though the engine only makes 140 horsepower. This is one of those times you have to pay attention to torque figures. Its 236 pounds-feet of torque is about 8 pounds-feet shy of a 2010 Subaru Impreza WRX. I expected the excellent fuel economy from the Golf TDI, but the way it moved through traffic with gusto was news to me.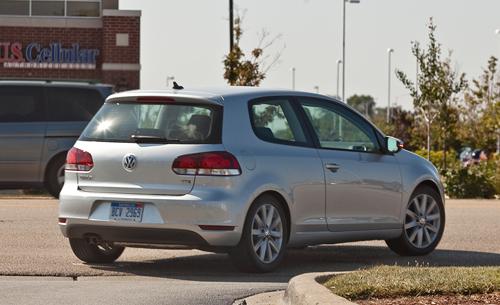 Hate: Automatic transmission in stop-and-go traffic
My problem with the Golf TDI is the same issue I experienced with the 2011 Ford Fiesta. Both cars have a dual-clutch automatic transmission, which made stop-and-go traffic painful. On stretches of open road the gear transitions were seamless, but on the congested interstate the Golf would lurch and stutter forward when I pressed the accelerator at low speeds. Maybe using the paddle shifters would alleviate some of this, but I can't imagine I'd want to bother with those in the middle of a traffic jam. The gas-powered Golf has a more traditional six-speed automatic transmission. A six-speed manual is standard on the TDI, but for city driving an automatic is preferred. The dual-clutch transmission improves fuel economy by 1 mpg highway to 30/42 mpg city/highway, but I hope it gets a little more refined before it starts showing up in even more cars.