Ford Focus ST: First Look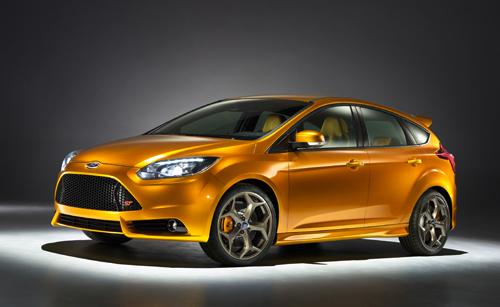 Competes with: Mazdaspeed3, Honda Civic Si, Subaru WRX
Looks like: A hatchback with a definite catlike look
Drivetrain: 246-horsepower, turbocharged 2.0-liter four-cylinder, six-speed manual transmission
Hits dealerships: 2012
You're looking at a Tangerine Scream-colored Ford Focus ST. This is the high-performance version of Ford's next-generation Focus. The high-powered hatchback will debut at the Paris Motor Show this month, but it isn't a Europe-only model. It will go on sale in the U.S. sometime in 2012.

That seems awfully far away as we're still awaiting sales of the plain-vanilla next-gen Focus, which won't begin until early 2011.
We do like all the go-fast looks Ford has added to the ST. Besides the unique paint color, the Focus ST's larger wheels, unique front end, center-mounted dual exhaust pipe and large rear spoiler all alert you to the performance aspects of the model.
The engine will be a modified version of Ford's turbocharged 2.0-liter four-cylinder EcoBoost engine, which is good for 246 hp. Ford didn't formally announce a transmission to go with it, but as is clearly shown in the interior image below, the show car is equipped with a six-speed manual, as it should be.

More details will emerge at a later date, but for now check out larger versions of the photos below by clicking on any of the images.