Honda's New Navigation System: First Look
Making its debut on the 2011 Honda Odyssey is the company's upgraded navigation system. The hard-drive-based unit packs an 8-inch high-resolution screen, live traffic with a lifetime subscription, and voice commands that make it quite a few steps better than the outdated system adorning current Hondas.
The company wouldn't reveal which other vehicles will receive the upgraded unit in the future. Considering the 2011 Honda CR-Z and Accord still feature the current system, we'd guess the next model to get it will be the redesigned Civic, which will go on sale early in 2011.
Below we show you some of the new screens and detail the improvements.
Navigation
While I didn't get to test routing on the navigation system, I did drive for about an hour with the map displayed. The resolution is quite crisp, but the maps still feature rather lifeless colors and shapes to distinguish water, roads and landmarks. Luckily, road names – arguably the most important objects on the screen – are quite clear.
Using voice commands, you can input destinations such as "nearest Starbucks" into the system.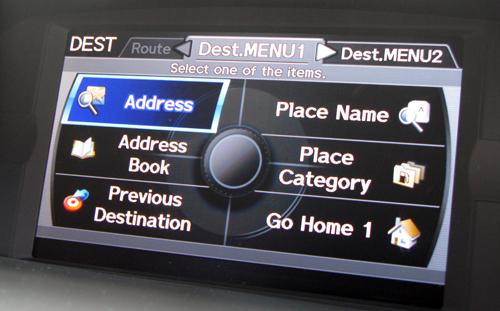 Live traffic is delivered by FM signals instead of satellite as in other systems I've tested. The new method is still, well, new, so not all areas will have it active at launch. However, Honda says it's available in many large metropolitan areas like Chicago and Los Angeles. A lifetime subscription is included, which is a relief to those who get tied up with hefty fees after a trial ends and sometimes requires adding satellite radio, too.
A Zagat Guide of restaurants and a scenic-route option are nice extras but not really make-or-break features.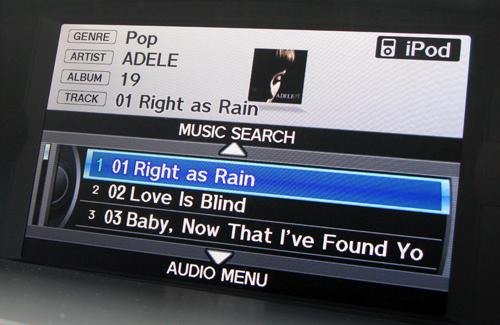 Music
The music display for the navigation system is also a huge improvement. Menu screens look sharp and modern versus the jagged, silver palette of the current system. You can access digital music via a USB port for either iPods or USB flash drives. A Bluetooth streaming audio feature is available. The system also has a 15GB hard drive for music storage, but it can only copy music from consumer-grade CDs, not burned CDs or flash drives unfortunately.
You also can use voice commands for the audio system, which is similar to Ford's Sync system. A variety of commands can control the same function like saying "Radio 97.1 FM" or "97.1 FM" to change the radio station or "Play song 'Just Breathe' " or "Play 'Just Breathe' " to change tracks.
You can also upload photos via the USB port and create wallpaper for menu and welcome screens.
The navigation system is a $2,000 price premium on the Odyssey, which is right in line with past Honda pricing and the competition. I would say this latest offering puts Honda near the top of the competition, too. Nissan and Infiniti's system is another favorite, as are the upgraded units in newer GM and Ford models.