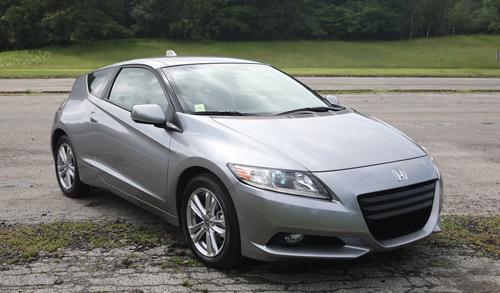 August car sales dipped a bit against last year's Cash for Clunkers and things slowed down on the Movers and Losers list, too. The average number of days it took to sell a new car was 57.8, up from 56 in July. That's far better than the number of 82 days it took in August 2009.
In an odd bit of hybrid irony, Honda's new CR-Z hybrid topped the Movers list, while the 2010 Honda Insight hybrid took 95 days to sell, making it one of our picks for consumers looking for deals on slow-selling models.
On the Losers list, the Mitsubishi Lancer Sportback retained the top spot and five other cars also remain from July's Losers list. The lists and our methodology are listed below.
Movers
2011 Honda CR-Z: 5 days
2011 Chevy Equinox: 6 days
2011 Ford Fusion: 6 days
2011 GMC Terrain: 6 days
2011 Land Rover Range Rover Sport: 7 days
2011 Infiniti QX56: 8 days
2011 Mercedes-Benz C300: 8 days
2011 Toyota Tacoma: 8 days
2011 Audi A5 coupe: 9 days
2011 Cadillac SRX: 9 days
2011 Ford Escape: 9 days
2011 VW Jetta SportWagen: 9 days
Losers
2010 Mitsubishi Lancer Sportback: 207 days
2010 Scion xD: 189 days
2010 Suzuki SX4 Sportback: 188 days
2010 Ford Transit Connect: 161 days
2010 Mazda RX-8: 152 days
2010 Mercury Mariner Hybrid: 145 days
2010 Lexus HS 250h: 129 days
2010 Mazda MX-5: 117 days
2010 Kia Optima: 107 days
2010 Acura RL: 106 days
Cars.com Picks
2010 Nissan 370Z convertible: 102 days
2010 Toyota Yaris sedan: 95 days
2010 Honda Insight: 95 days
2010 Mazda MX-5 Miata PRHT: 94 days
2010 BMW 650i coupe: 19 days
2010 Lancer Evolution: 92 days
About the Lists
The Movers and Losers list reports the average number of days it takes to sell models from the day they arrive on the lot until the final paperwork is signed by a buyer. This is not a days-of-inventory list like you may find on other sites. We're now focusing on only the 2010 and 2011 model years.
For Movers, we only list vehicles that pass a certain threshold of sales in order to weed out limited editions, ultra-high performance cars and others that might skew the numbers or otherwise inaccurately portray popularity. For Losers, we have removed any threshold to now reflect phased-out models because many shoppers might be looking for an outgoing model year to match with a greater incentive.