Nissan Starts Taking Orders for Leaf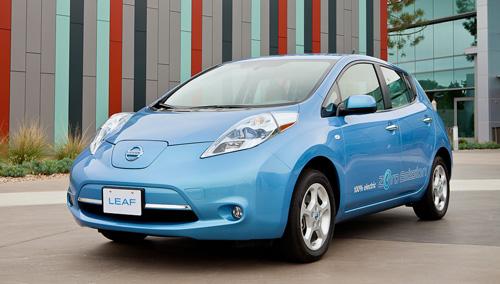 Nissan officially started to take sales orders for the Leaf this week for customers in California, Arizona, Tennessee, Washington and Oregon.
If you're among the 18,600 people who reserved a Leaf in advance, you will receive an email on how to submit a solid sales order.
Because of various state laws, before you submit a production order with Nissan, you will need to contact a Nissan dealership to negotiate a final price and finalize the financing or lease agreement. After that, Nissan will place your order for production and give you a estimated delivery date.
The Leaf will be available in two trims: SV and SL. The SV starts at $32,780 and will come standard with recycled cloth upholstery, navigation system, 16-inch alloy wheels and three years of free roadside assistance. The SL starts at $33,720 and will come with a solar panel spoiler, fog lights, rearview camera and automatic headlights. A fast-charging port that can charge the Leaf's battery to 80% capacity in 30 minutes will be a $700 option only on the SL.
Destination fees add $820 on both trims. Keep in mind that you might be eligible for a $7,500 federal tax credit and various other state tax benefits. Nissan is also offering a lease program that will start at $349 a month.
The Leaf goes on sale in December in the states listed above and then in Texas and Hawaii in January. A nationwide rollout will occur in the spring.