Nissan Townpod Concept at 2010 Paris Motor Show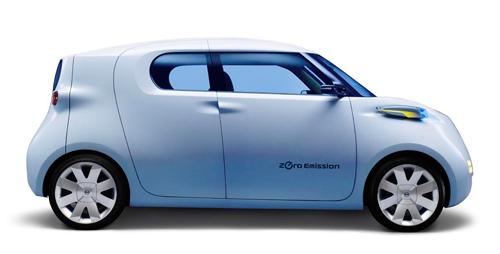 Looks like: Nissan Leaf meets Chevy HHR
Defining characteristics: Hideaway second-row seats
Ridiculous features: Movable "pucks" to hold accessories
Chance of being mass-produced: It's possible we'll see some wild electrics in the future
Nissan calls the Townpod a vehicle for entrepreneurs. We're not sure how an all-electric compact van will get anyone angel funding, but there's a lot of interesting stuff inside this little guy whether you're a self-starter or a retiree.

What we like most about the Townpod are the little ideas Nissan has added. Little balls, which Nissan calls Pucks, can be placed anywhere around the cabin including in the doors and on the dash. They work with a variety of accessories to hold drinks, smartphones and even objects like a corner desk for the passenger.

Nissan doesn't emphasize the Townpod as a workspace, however.
We'd like to see a WiMax-equipped car with a desk area. If you can plug it in instead of running the engine it could be a true mobile office. That's what
we
want.
The Townpod's other features include a second-row bench seat that slides all the way up to the front seats. By fitting tightly against the front seats, there is a maximum amount of rear cargo room allowed without having to remove the second row entirely.
There's also a hole in the roof that opens so odd-size cargo like the gigantic blueprint tubes shown in the press images could fit in the vehicle. Theoretically, this hole also could come in handy with building materials, rugs or sports equipment, however, it certainly wouldn't do well at high speeds in terms of aerodynamics.
Check out more photos of the wild little runabout below.