Reader Review of the Week: 2011 Toyota Camry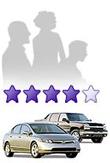 "Empty Nester" from the San Francisco Bay area is a couple who have ditched their old family hauler (a Chrysler Town & Country) and downsized to a more manageable 2011 Toyota Camry XLE, which came in a "beautiful" blue exterior color. Check out the full review below, and you can write your own car review here.
"This is the first time I've ever bought a car just for myself (not for the family as a whole). The Camry has a great ride, not too soft and not too hard. The handling I describe as mellow — very easy to drive. Tracks well with no drifting.
"The seats are pretty comfortable — a little firm, but I think they will soften with use. Lots of nice features in my XLE. I love the smart key and heated seats. Huge trunk. We've just finished a 900-mile road trip and it was a pleasure to drive, and had mileage over 30 mpg even with three passengers, luggage and speeds averaging 70 mph on the freeway. We used half the gas that our old Town & Country used.
"I highly recommend the Camry for someone looking for a good family sedan. Oh, and mine is also a beautiful blue!"
2011|Toyota|Camry