2011 Dodge Durango in the Wild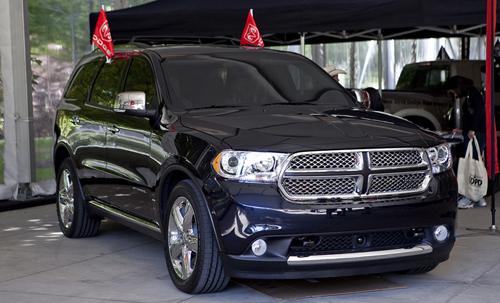 Dodge has been teasing us with images of the redesigned 2011 Dodge Durango SUV for some time now, but we finally had a chance to see the SUV in person at the Chicago Country Music Festival in downtown Chicago.
The Durango is related to the Jeep Grand Cherokee SUV, but it's longer and comes with a third-row seat. It's not a cut-and-lengthen limousine-style stretch job, however; there's a natural flow to the styling from nose to tail.
Even though it's a big SUV, the Durango has a hunkered-down stance that makes it appear lower than a Chevrolet Tahoe, for instance. The trim level we saw was a top-of-the-line Citadel, but Express, Crew and R/T trims will be offered, too, according to Greg Rush, Dodge and Ram brand marketing manager.
While the Durango's interior was off-limits, you can check out our set of exterior photos below. Click on any of them to view a larger version.