2011 Nissan Murano Priced at $28,500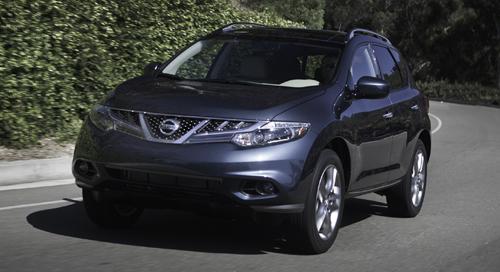 Despite a fairly significant upgrade for 2011, the Nissan Murano only receives a minor price increase for the model year. The 2011 Murano starts at $28,500, which is a $160 price increase from last year's base model. Actually, the 2010 Murano starting pricing rose from $28,050 at the beginning of last year to $28,340 today, so the price change for 2011 is actually closer to $500, which is still reasonable given the changes.
The 2011 Murano is available in S, SV, SL and LE trims in both front- and all-wheel drive. The SV trim is new for 2011 and comes with features like a dual-panel moonroof, a rearview camera and satellite radio.
To read more about the different features on each trim, check out our First Look post.
Continue reading below for more detailed pricing information.
2011 Nissan Murano (2010 Price)
S: $28,500 ($28,340)
SV: $31,910 (new for 2011)
SL: $35,450 ($30,460)
LE: $37,540 ($37,110)
All-wheel drive: $1,600 ($1,600)
Navigation Package: $1,850 ($1,850)
Destination: $800 ($800)