Cadillac CTS-V Wagon Priced at $62,165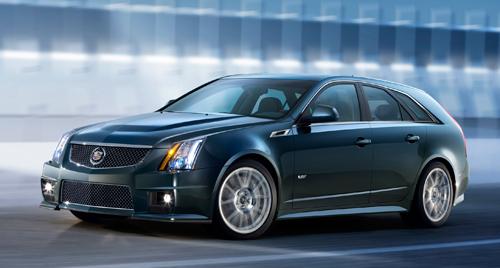 As GM prepares the 2011 Cadillac CTS-V wagon for dealer orders, the car finally has a price: $62,165. That's before an $825 destination fee and a $1,300 gas tax, bringing the starting cost up to $64,290, the same price of the 2011 CTS-V coupe and sedan. So really, it's just a matter of personal preference at this point.
The CTS-V wagon gets the same 556-horsepower, supercharged 6.2-liter V-8 engine in the CTS-V sedan and coupe. The wagon is powered by the rear wheels through either a standard six-speed manual or six-speed automatic transmission. It rides on 19-inch aluminum wheels and packs magnetic ride control and Brembo brakes.
Inside, the car comes with heated leather seats, in-dash navigation system with a 40-gigabyte hard drive and a Bose audio system standard. Sapele wood trim, Recaro seats and a suede steering wheel and shifter are optional.
The unique body style is all we can say about what distinguishes the wagon from either of the other two high-performance variants. The hatch gives the CTS-V wagon up to 58 cubic feet of cargo space. That means you can take your dogs to the park in no time.
The CTS-V Wagon is available now for ordering from Cadillac dealerships and should be available for delivery sometime in 2011.
2011|Cadillac|CTS-V