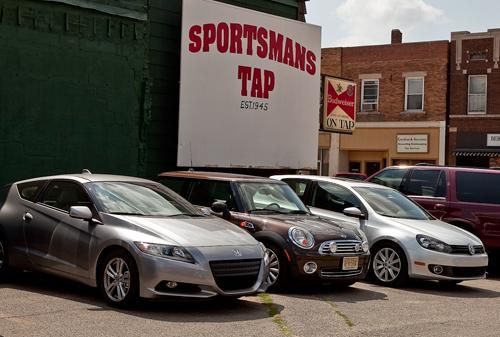 Expensive electric-powered cars are getting all the attention lately, but there are still plenty of small, efficient cars with small price tags being introduced on the market. For our latest mileage challenge we decided to take out three cars with three approaches to efficiency:  the redesigned diesel 2010 Volkswagen Golf TDI, the new 2011 Honda CR-Z hybrid and the just plain gas-powered 2010 Mini Cooper.
 
We compared the cars in our latest three-car faceoff, but because of these differing powertrains it seemed natural to put them through our Mileage Challenge, as well. We've put diesel and hybrid vehicles on a mileage drive before but never two that were direct competitors with a fuel-efficient gasoline car in the mix to boot.

An overview of our test route and the contestants are below.


Our last mileage drive had us taking four entry-level cars northwest of our Chicago offices on a rainy spring day. This time around, we took an urban route to Chicago's south suburbs, hopped on the interstate toward LaSalle, Ill., headed north past the Wisconsin border and cut back southeast to Chicago. Nine hours behind the wheel, with an even mix of city and highway speeds and temperatures in the 80s and 90s, put some 330 miles on the odometer.
 
As with all mileage challenges, we filled the tires to their recommended pressure before the drive, kept windows and sunroofs closed, avoided cruise control and filled up at the same station. We also avoided each car's Sport mode, which optimizes drivetrain settings for maximum performance. In the past we've filled up the cars at the end of the day until the gas pumps click off. Gasoline shutoffs aren't always consistent, so this time we filled the cars until we could see the gas near the top of the filler neck. (A gas pump clicks off for the sake of safety, not necessarily accuracy, so don't do this with your own car. Professional writers, closed course.)
 
The Golf TDI and CR-Z were rated an identical 34 mpg in combined EPA ratings; the Cooper fell just 2 mpg behind. At day's end, however, one contender blew the other two away. Stay tuned for tomorrow's results, and weigh in below with your predictions.

Details on the cars:
 
2011 Honda CR-Z
Base MSRP: $19,200
As tested: $23,310
Specs: 1.5-liter four-cylinder with 10-kW electric motor and six-speed manual transmission
EPA gas mileage: 31/37 mpg city/highway, 34 mpg combined
2010 Mini Cooper
Base MSRP: $18,800
As tested: $25,000
Specs: 1.6-liter four-cylinder with six-speed manual transmission
EPA gas mileage: 29/37 mpg, 32 mpg combined
2010 Volkswagen Golf TDI
Base MSRP: $22,155
As tested: $27,490
Specs: Turbocharged 2.0-liter four-cylinder diesel with six-speed, dual-clutch automatic transmission
EPA gas mileage: 30/42 mpg, 34 mpg combined