Movers and Losers: September 2010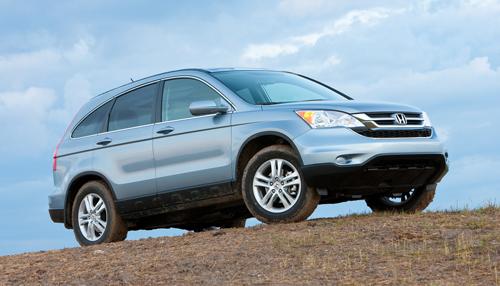 Vehicles from the 2011 model year of almost every make have hit most dealerships and that has directly impacted this month's results for the fastest- and slowest-selling new car models.

The greatest surprise is on the Movers' list and supports our recent focus on the rise of the SUV. Fifteen of the 20 fastest sellers were SUVs or crossovers. Another two were trucks.

As that sinks in, I know someone will ask where last month's No. 1 Mover, the Honda CR-Z, went. While it wasn't in the top 20, it did maintain a solid 17 days to sell as inventories filled up.

The average time it took to sell a new car this month rose to 61 days, up from 57 days in August. However, that's better than the 80 days it took in September 2009.

This month, our picks for good buys are really interesting.
With the arrival of 2011 models, there are some cars you'd expect to find on this list, including leftover 2010 models such as the Subaru Impreza, Chevy Corvette and Nissan 370Z. However, there are a few models that you wouldn't think you could make a deal on.
There are more than 2,700 2010 Chevy Camaros in Cars.com's inventory, and the 2011s are already at dealerships. That should mean a better deal than you'd expect on what was one of the hottest cars on this list.
Unfortunately, that's not the case in terms of advertised incentives. There's only a $1,500 accessory allowance on the 2010 Camaro in some regions. But we wouldn't be surprised if dealers discount the Camaro, especially with winter approaching.
The 2010 Toyota Matrix and Yaris two-door hatchback also have significant inventories without a lot of 2011s at dealerships. Toyota is offering $750 cash-back on the 2010 Matrix and $500 on the 2010 Toyota Yaris or zero to 2.9% APR for up to 60 months in select regions.
The full lists and our methodology are listed below.
Movers
2011 Honda CR-V: 5 days
2011 Toyota 4Runner: 5 days
2011 Jeep Wrangler Unlimited: 7 days
2011 Jeep Wrangler: 8 days
2011 Chevrolet Equinox: 9 days
2011 Ford Edge: 9 days
2011 Lincoln MKX: 9 days
2011 GMC Terrain: 10 days
2011 Honda Accord coupe: 10 days
2011 Honda Accord sedan: 11 days
2011 Toyota Sequoia: 11 days
2011 Acura MDX: 12 days
2011 Nissan Rogue: 12 days
2011 Toyota Tacoma: 12 days
2011 Toyota Tundra: 12 days
2011 Audi Q7: 13 days
2011 BMW X5: 13 days
2011 Land Rover Range Rover Sport: 13 days
2011 Mercury Milan: 13 days
2011 Cadillac SRX: 14 days
Losers
2010 BMW X6 ActiveHybrid: 260 days
2010 Scion xD: 216 days
2010 BMW 650i: 209 days
2010 Suzuki SX4: 202 days
2010 Mercedes-Benz S400 hybrid: 195 days
2010 Mazda RX-8: 175 days
2010 Hummer H3: 165 days
2010 Jeep Commander: 153 days
2010 VW Touareg: 148 days
2010 Lexus HS 250h: 146 days
Cars.com's Picks
2010 Jaguar XF: 136 days
2010 Mazda MX-5 Miata: 135 days
2010 Subaru Impreza hatchback: 134 days
2010 Nissan 370Z roadster: 131 days
2010 Mazda MX-5 Miata (power-retractable hardtop): 126 days
2010 Chevrolet Corvette coupe: 125 days
2010 Mitsubishi Lancer: 107 days
2010 Toyota Matrix: 106 days
2010 Toyota Yaris two-door hatchback: 104 days
2010 Chevy Camaro coupe: 103 days

About the Lists
The Movers and Losers list reports the average number of days it takes to sell models from the day they arrive on the lot until the final paperwork is signed by a buyer. This is not a days-of-inventory list like you may find on other sites. We're now focusing on only the 2010 and 2011 model years.

For Movers, we only list vehicles that pass a certain threshold of sales in order to weed out limited editions, ultra-high performance cars and others that might skew the numbers or otherwise inaccurately portray popularity. For Losers, we have removed any threshold to now reflect phased-out models because many shoppers might be looking for an outgoing model year to match with a greater incentive.