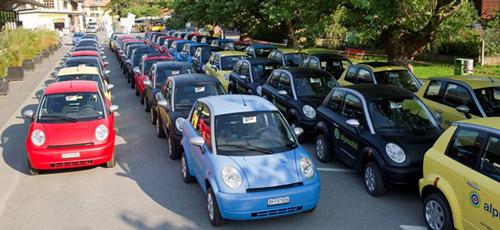 It's easy to forget that Think is the biggest maker of electric vehicles in the world, especially with all of the media hype surrounding GM, Tesla and Nissan. Yesterday, the automaker announced it has assembled its 2,500th Think City, which makes it the best-selling EV in the world. That's nice to gloat over, especially when you consider that the carmaker will most certainly get its clock cleaned by Nissan's and GM's EVs next year.
Along with that boasting, Think's U.S. expansion plans are still on track, which we wrote about in our series on Indiana automakers.
The two-seat City commuter will be assembled at a former RV plant in Elkhart, Ind., with fleet and retail sales starting in December. That's about the same time that the Nissan Leaf and Chevrolet Volt go on sale in select markets.
According to the Elkhart Truth newspaper, the Finnish company expects to hire about 25 people at the Indiana plant. They will finish the assembly of 500 incomplete City electrics, which are shipped from Finland without their powertrains in place. Industry insiders call this method a "knock-down kit," which allows Think to gain some extra tax preferences.
Eventually, the carmaker may employee 400 full-time employees in America. While the company has positive cash flow for 2011, Think has not secured U.S. Department of Energy loans to complete its full strategy.
Electric car maker plans start of Elkhart factory (SothBend Tribune)