Win a 2011 Mazda2 Via Foursquare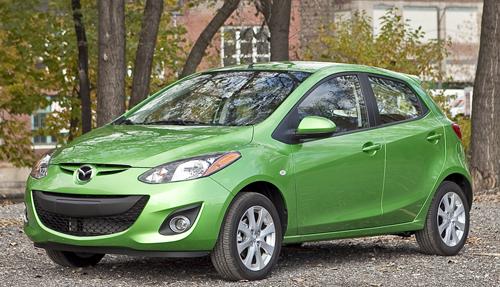 Are you one of the millions of people who have succumbed to Foursquare, the latest social networking craze? Well, your addiction to fastidiously documenting your every location may bear more than just a mayorship: You may be eligible to win a new car from Mazda.
Mazda is giving away a new 2011 Mazda2 on Foursquare via an "Amazing Race"-style digital scavenger hunt.
To play you'll need a Foursquare account, obviously, and will need to follow Mazda on it. Then you'll have to check in to the relevant locations and earn two of Mazda's three badges. The three badges include Mazda2 Button Masher (gaming competitions and retailers), Mazda2 Beat Junkie (concerts and music spots) and Mazda2 Style Guru (nightlife haunts, boutiques and fashion events).
Once you unlock two of the three badges, you'll unlock the Inner Driver badge. This badge will give you instructions about emailing your sweepstakes entry with your name, birthday and phone number, as well as the subject line "Mazda2 Foursquare Giveaway ENTRY." After all that rigmarole, you'll be entered to win the Mazda2.
There's one fairly significant catch to this sweepstake: You have to be near a given Foursquare location to check-in. The locations are in a handful of cities: Austin, Texas; Boston; Chicago; Dallas; Denver; Los Angeles; Las Vegas; Miami/Fort Lauderdale; New York; Philadelphia; San Francisco; San Diego; Seattle; Washington, D.C.; and Portland, Ore.
We imagine that most of the check-in points in these cities will be in the downtown area, which could hinder suburbanites.
Of course, if you're just not into this whole social media thing Mazda doesn't want to discriminate against you. You can use good old snail mail and mail your entry to the sweepstakes, which sounds a whole lot easier to us. The sweepstakes ends on Dec. 7. A winner will be announced in mid-December. For more information, go to foursquare.com/mazdausa.