2011 Chrysler Town & Country: First Drive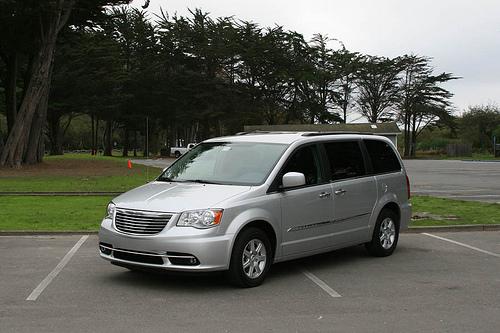 Some people might think the minivan segment is DOA, but those same people might be surprised to learn that practically every minivan on sale in the U.S. has been recently redesigned or will be soon. One of the newest ones is the 2011 Chrysler Town & Country, which receives substantial interior revisions, a new V-6 engine and a host of standard safety features. Expect to see it at Chrysler dealers before the end of the year.

The previous Town & Country rode like a big American car from the '70s, which is to say softly, but the 2011's new suspension tuning keeps the van's body motions better in check while still delivering a comfort-oriented ride that families will appreciate. It corners surprisingly well without much body roll — even when pushed harder than most owners will do.
The new 283-horsepower, 3.6-liter V-6 replaces three V-6 engine choices that were available in the prior Town & Country. The engine feels strong enough, and it teams with a six-speed automatic transmission that shifts smoothly. The minivan gets an estimated 17/25 mpg city/highway, and it includes an Econ mode that improves gas mileage by altering the transmission's shift program and keeping the torque converter locked longer.
Even though the all-new dashboard is made of hard plastic, it has a nicely grained, low-gloss appearance. Overall, the new dash, door and instrument panel make the Town & Country's interior more luxurious.
For 2011, Chrysler has also updated one of its signature minivan features: Stow 'n Go second-row seats. The seats, which are standard, fold into the floor with just one touch of a lever, which articulates them forward and into their floor bins (if the bin isn't open, the seat just flips forward to make it easier to access the third row). Chrysler says the Stow 'n Go seats are now larger for better comfort, but you still sit pretty low to the floor, which limits their appeal for adult passengers. Traditional second-row bucket seats are optional.
Standard safety features include side-impact airbags for the front seats, side curtain airbags for all three rows of seats, a driver's-side knee airbag, an electronic stability system, rear parking sensors, a backup camera and a blind spot monitoring system.

The Town & Country is one of the best-selling minivans in the country and a bright spot for the Chrysler brand. With the changes it gets for 2011, there's no reason to believe its strong sales won't continue — even in the face of redesigned competition.