2011 Kia Sedona: Up Close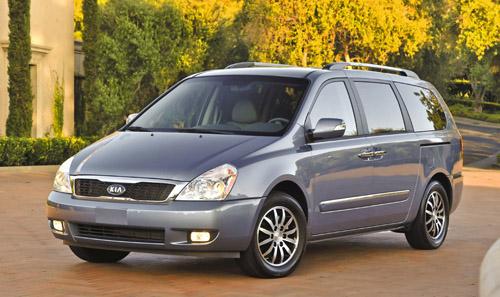 Updated lightly for 2011, the Kia Sedona sat amid Sorentos, Sportages and Fortes at the brand's display at the Los Angeles Auto Show. The Sedona is a besieged warrior: All of its competitors - from the Chrysler Town & Country and Dodge Grand Caravan to the Toyota Sienna, Honda Odyssey and Nissan Quest - have been redesigned or heavily reworked.
The 2011 Sedona gets a new drivetrain and some slight styling updates. It's competent in certain areas, but the competition is stronger than ever. Aside from pricing incentives -Kia already is offering $2,000 on the 2011 model in most regions - the Sedona's draw is hard to find.
Chief among the styling changes is Kia's corporate indented grille, which replaces a sectioned grille on the 2010 Sedona. The mirrors get LED turn signals as well. Neither addition makes the Sedona more interesting to look at, especially compared to the other minivans out there. It stands to reason that minivan shoppers are driven less by styling than people shopping other segments; Kia might find some respite in that.
The cabin remains the same. It's logically arrayed, with large knobs for the stereo and climate controls, and controls for the available power seats conveniently located along the doors. Surfaces are padded where it counts, but the finishes look pretty dowdy. The seats in the EX show car had stiff, low-rent leather, and the seat warmers are either on or off. Bah.
There's decent room in the second and third rows, and the second-row captain's chairs sit high enough that adults should find a comfortable roost. The third row, like many, sits too low to the ground. It collapses easily into a well for a flat cargo area, but it requires both hands to do so. Others, like the Odyssey, have turned this into a one-handed job.
A new 3.5-liter V-6 replaces last year's 3.8-liter V-6, adding 27 horsepower but dropping 5 pounds-feet of torque. Thanks to a six-speed automatic versus last year's five-speed auto, combined EPA gas mileage is up to 21 mpg from 19 mpg last year. That's competitive, but in most other areas, Kia is falling behind.
From a brand that's knocking 'em out of the park in so many other areas, the Sedona needed more. What happened for 2011 reminds me of the 2008 New York auto show, when Kia carted out a face-lift on the prior-generation Optima. The competition was stiff, and the changes weren't enough to compete. A couple of years later, the next-generation Optima looks ready to make a big sales splash. The Sedona will have its day, I suspect, in 2012 or 2013.