2012 Land Rover Evoque Five-Door: Up Close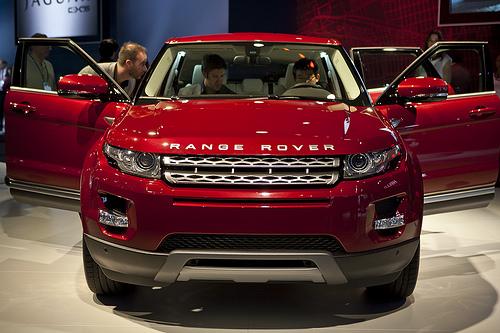 I was impressed with the Land Rover LRX concept when it debuted a few years ago. It was an athletic-looking crossover that had quite a bit of presence despite its relatively small footprint. The production version of that concept, the Range Rover Evoque, is finally here, and it maintains the concept's rakish looks without unduly compromising passenger space.
The Range Rover Evoque's design is instantly appealing. The crossover has a wide, low-slung shape that's decidedly not Land Rover, which has been churning out tall, boxy SUVs for years. The automaker sees the Evoque competing with other luxury crossovers like the BMW X3 and Volvo XC60, but I think the Land Rover's styling blows those two away.
For a small crossover, the front of the Evoque five-door's cabin is roomy enough for taller drivers, but the bucket seats are quite narrow; when I sat down in the driver's seat I was sitting on the side bolsters. The cushioning is pretty soft, too, which may or may not be appealing to you.
Like the pricey Range Rover, the design of the Evoque's center console gives the impression that it's extending into the upper reaches of the dashboard. Premium materials are the norm, and there's a twist-knob gear selector instead of a traditional shifter. Overall, it's a classy space, which is nice to see because the cabin of Land Rover's other small model, the LR2, is rather utilitarian.
I was surprised by the amount of room in the Evoque five-door's backseat. With the fast roofline and overall small size of the crossover, I figured the backseat would be more for show than use, but it's pretty tolerable for taller passengers -- even with the front seat adjusted for another taller person. It's not stretch-limo comfy, but for what this vehicle is, it's well done. The cargo area is similar in size to that of a small hatchback. While the cargo floor is relatively low to the ground, the space itself isn't very wide.
More and more luxury brands have entered the small crossover segment in recent years. The LR2 has been Land Rover's entrant in the segment, but the Evoque five-door seems like it has the potential to leave a much bigger mark.