Lotus Shows Future Lineup in L.A.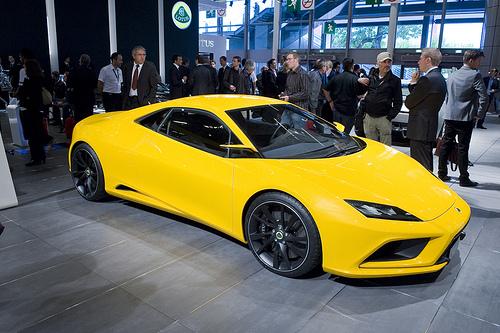 It would be impressive for a Toyota or a GM to show five all-new cars at a single auto show. For an exotic British automaker whose U.S. sales in 2009 amounted to some 600 cars, it's virtually unprecedented. But that's exactly what Lotus did, bringing the five models it unveiled at the Paris Motor Show to Los Angeles. The cars – three two-door sports cars, a hardtop convertible and a sedan concept – represent Lotus' effort to push its lineup from five-figure performance models into six-figure exotic cars by 2015.
We had a ringside spot to all the action. KISS singer Paul Stanley took the wraps off the Elite – a 600-plus-horsepower hardtop convertible that Lotus calls its "ultimate gentleman's car." Sharon Stone unveiled the Esprit, a resurrection of the brand's original V-8 supercar. Billy Baldwin unveiled the V-6 Elan, a nameplate last built in the 1990s. Lotus also had a redesigned Elise, set to arrive around 2015, as well as a four-door Eterne concept.
All five were in early form, as just about anything this far off might be. The gang represents a shapely direction one might expect, given the cars that came before the current Elise and Exige. Our favorites were the new Elise and Elite, as both cars' proportions benefit from minimal front overhang.
Words don't do the lineup justice. Check out the photos below and let us know what you think. We snapped the Elite, Esprit, Elan and Elise.
2013 Lotus Elan
Lotus Eterne Concept