VW President Talks Turkey on Jetta, Crossovers ... and Hyundai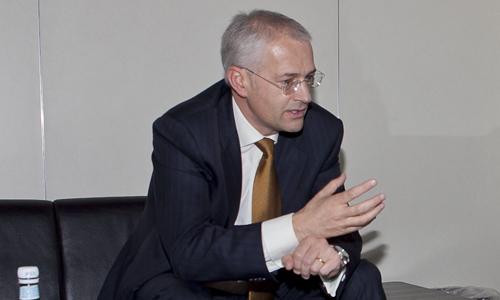 As Volkswagen works hard to grab the title of the world's No. 1 global automaker, Jonathan Browning, president and CEO of Volkswagen Group of America, sat down with Cars.com at the 2010 Los Angeles Auto Show to discuss the state of America's top-selling German brand. Browning oversees U.S. operations for VW and Audi, plus the company's three exotic brands.
The United States represents a large part of that world domination goal, and the VW brand – by far the group's strongest U.S. seller – needs to compete in core areas. Toward that end, the automaker has moved its redesigned Jetta downstream, slashing the price of the base model to just below $16,000, but it has come at a cost. VW has endured criticism, including ours, for cheapening the Jetta's interior. Yet the new Jetta sells like gangbusters: Sales in October for the Jetta sedan were up 42 percent compared with October 2009.
"We need to expand our footprint," Browning said. "Take the Jetta, for example. We will have the GLI [trim level] in the market that will have all the features that the VW enthusiast wants. At the same time, we will have the Jetta S in the market, which will allow people to get in who otherwise wouldn't have been able to.
"I don't see any issue in terms of opening the doors to the Volkswagen stable a little more widely and bringing those extra customers in," Browning said.
One of VW's primary customers is the diesel shopper. Diesel engines are generally 20 to 30 percent more fuel efficient than similarly sized gasoline engines. The price of diesel fuel, however, can diminish those returns. It's not nearly as high as it used to be – at one point it ran as much as 76 cents more per gallon than regular unleaded – but it still averages nationally a few cents more per gallon than premium unleaded, according to AAA's Fuel Gauge Report. A year ago, diesel fuel tracked just above the cost of 89-octane midgrade unleaded.
"Our expectation is not for a significant change in terms of the relative price of gas and diesel," Browning said, adding that diesel models represented one-fifth of Volkswagen's October sales. "Clean diesels are gaining acceptance. People who experience those diesels generally become very strong advocates of them."
Diesels notwithstanding, Browning sees a lot of growth ahead for the Volkswagen brand. He's especially keen on the compact utility segment, which he calls a "great opportunity for further growth."
"It's showing one of the biggest [sales] volume increases," Browning said. "It's also a segment that's a natural fit for the VW brand. In my opinion, the Tiguan could become what the Golf is in Europe for the U.S."
The automakers standing in the way of VW's rise is shifting. Toyota led GM in global production last year, according to the International Organization of Motor Vehicle Manufacturers. VW ranked third, ahead of a distant-fourth Ford. Close behind Ford, however, was Korean automaker Hyundai-Kia – a group that, as recently as 2006, ranked 10th. In the U.S., Hyundai-Kia ranks sixth in sales through October. That's up one spot from a year ago, and it's two spots ahead of VW's collective U.S. brands.
"Hyundai, clearly a player in the marketplace, has grown very successfully in the recent past," Browning said. "I think it's a signal as to how open the U.S. consumer is to new alternatives in the marketplace. ... [It's] one of the most transparent markets. When you perform well, that word spreads."
Fact is, no automaker will cede ground without a fight – and Browning welcomes this.
"The automotive industry is one of the most competitive globally," he said. "I think it's one of the things that makes it such a fascinating industry to be a part of."