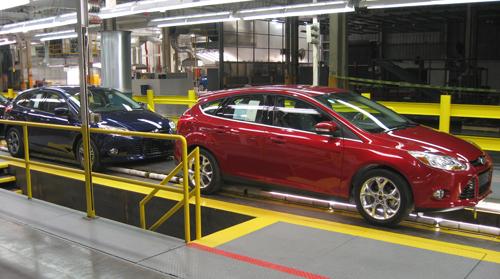 I'm sitting in Ford's redesigned 2012 Focus, and it's coming down in buckets outside – a real downpour. It's dark in the cabin; all you hear is water falling. I could fall asleep to this.

"I love it," says Jimmy Mallett, a soft-spoken Ford employee in the driver's seat. "I want to be right here."

Except we're not outside. We're inside Ford's 1.2-million-square-foot Michigan Assembly Plant near Detroit. More specifically, we're inside the plant's water-test facility. It's a collection of hangars with overhead jets spewing water at 20 psi.

Mallett takes a small flashlight and peers about the cabin's various corners: the bottom of the A-pillars, the edge of the footwells, the rear door in our five-seat hatchback. The car lacks floormats, footwell trim and scuff plates, all of which can hide potential leakage points. Mallett says one or two out of every 100 cars tested typically have leakage issues. Ours isn't one of them.
After a few minutes, he backs the car out of the water-test facility.
Water testing isn't new. Every assembly plant I've toured has something like this. What's different is the sort of vehicles Ford will build here. After a $550 million renovation of the plant, the automaker announced Tuesday that it plans to build an all-electric Focus alongside the gasoline Focus and a yet-unnamed hybrid and plug-in hybrid at MAP by late 2012. It would be the world's first assembly plant to crank out all four types of drivetrains from the same assembly line, Ford says. It also represents a big change from the truck-heavy past of MAP, whose recent products include the Ford Expedition and Lincoln Navigator SUV.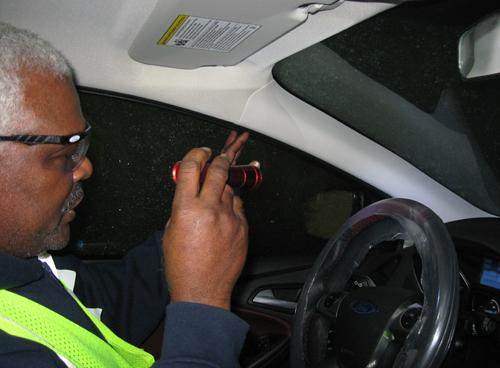 Production of the new Focus begins Jan. 3. A few Focus sedans and hatchbacks are staged in certain areas, where employees go through various assembly processes. Apart from that, the assembly line – a three-mile path with more than 900 stations, each of which averages a little less than a minute – sits unattended. For an auto plant, it's eerily quiet: Apart from an occasional siren or hydraulic lifter, the only noise I hear comes from ventilation fans.
Even when production kicks into gear, MAP should be one of Ford's quieter assembly lines. For one, the scissor lifts that carry the cars — skillets, they're called — move silently from one station to the next.
"These things, they glide along," Ford spokesman Patrick Hespen says. Hespen and body area manager Jason Moore are the tour guides for the dozen or so journalists in my group. "The ones in Chicago, in Louisville, they get launched, and — Bam! — once the bump stops them." He motions to illustrate the jarring halt that a skillet would make at Ford's Illinois or Kentucky plants.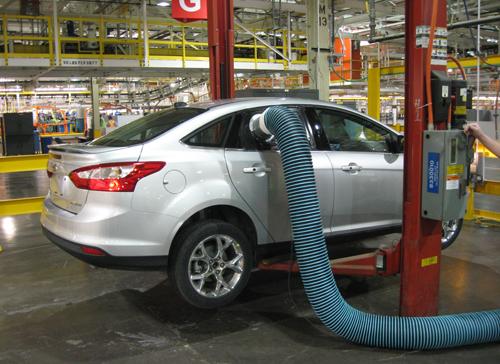 Still, as far as I can tell, there aren't any steps unique to producing a plug-in hybrid or electric vehicle. "The car pretty much goes together the same way," Moore said. "It's the powertrain that's different."
Still, Ford insists that MAP represents a new standard for high-tech auto manufacturing. Among the updates is a 500-kilowatt network of solar panels, with a second system on the way. The panels will help power areas like the final exterior inspection area, where 150 lights across five panels cast each Focus in laboratory-bright illumination. Here, two inspectors will give the car a final thumbs-up.
"They're our best," quality manager Jim Sierzego says. "They're our most senior inspectors. They're the most picky."
After exterior inspection, the cars go through a number of post-assembly evaluations. Around five cars a day endure an air leakage test, where a massive hose churns compressed air through a side window. Ford measures air leakage, which is a key indicator for wind and road noise. The target is 59 liters of air leakage per second in the 2012 Focus, compared with 61 liters per second in the prior-generation 2011 Focus. It's a seemingly large number, but engineer John Feloniuk says a certain amount of air needs to be able to escape.
"You have to have a certain level of oxygen," Feloniuk says. Leakage beyond what's supposed to flow through the ventilation system, of course, adds noise. "Those points of entrance are all over the vehicle. They're all leakage points."
Get a bad case of air leakage, and the car won't do well in the next test, which brings me full-circle. It's the water test, where guys like Jimmy Mallett enjoy a break from the din of an auto factory — even an allegedly quieter one — for a few minutes of rainfall nirvana.
At the end of a long day, we could all use a few Jimmy Mallett moments.
"It's like a rain stick," says David Hall of Consumer Guide as we emerge from the cars. "Some people buy machines to get that sound. He gets it every day."