Toyotathon Adds $500 Debit Card to Incentives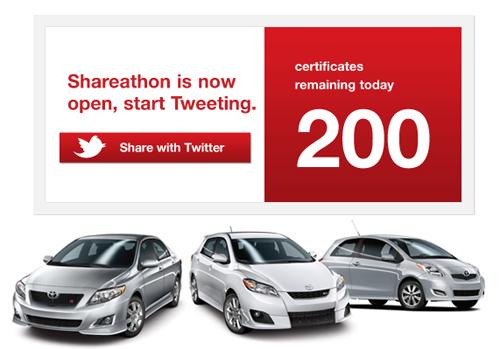 If last
week's report
on Toyota's generous lease and financing deals didn't entice you enough, maybe this will be the icing on the cake: Toyota is giving away $500 prepaid Visa gift cards to folks who buy or lease a new 2010 or 2011 Toyota model by Jan. 3.
Toyota calls the event a "Shareathon" because you have to help publicize the event via Twitter. To get the gift card, you must tweet a pre-populated message that will automatically post to your Twitter feed by clicking on "Share with Twitter" on the giveaway's main site. The message must be broadcast on Twitter – Facebook is not an acceptable substitute, according to Toyota's FAQ.
Once you send the tweet, you'll be directed to an online verification form. After that, you'll get your card after confirming your Toyota purchase. The gift card is in addition to any other forms of cash-back or low-lease incentives from Toyotathon, not in place of them.
Only 250 cards are available each day, and there are only three days left in the event, so you'll need to act fast.
If you want to read the rest of the fine print, go here.