2011 Chrysler 300: First Look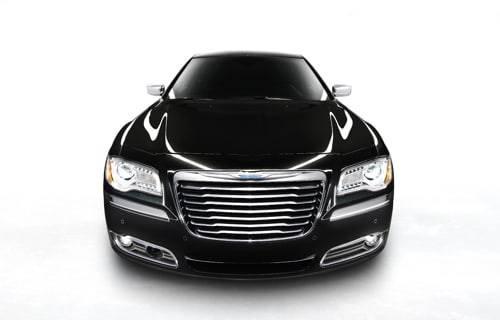 Competes with: Ford Taurus, Toyota Avalon, Nissan Maxima
Looks like: Chrysler is still aiming at an aura of affordable luxury
Drivetrain: 3.6-liter V-6, 5.7-liter V-8, rear-wheel drive
Hits dealerships: Early 2011
On Monday, we saw the first full images of the 2011 Chrysler 300C. Today, the company revealed interior images along with more information on the features of the full-size sedan. The company hopes the changes will return the 300 to the flagship status it had when it debuted to great fanfare and sales success.
The biggest news inside — besides an entirely new interior — is the 8.4-inch LCD touch-screen multimedia center that comes standard in the 300. This is Chrysler's new UConnect system. We recently tested it in the 2011 Dodge Journey, and it offers a lot of capability, though navigation is not standard. One thing we don't like about these types of systems is having to use the screen to adjust certain climate controls, like the fan mode and heated seats.
As for the rest of the cabin, you can see in the photos below that the 300 has gotten a similar upgrade as the Jeep Grand Cherokee, Dodge Charger and Dodge Journey. It looks to have premium materials on the dash and doors that impressed us in the other releases. The steering wheel looks to be similarly meaty to those in the Dodge and Jeep vehicles.
There is also a lot of ice-blue lighting, whether it's around the jewel-like gauges — which look very nice in the new Town & Country — or in ambient lighting around the door handles.
A panoramic sunroof — not usually seen on sedans of any type – is another premium option.
The outgoing 300 is an extremely roomy and comfortable sedan, and this new version doesn't look to take a step back. If this latest update holds up to the others we've seen, perhaps the 300 can get some of its original luster back.