2011 Hyundai Sonata Hybrid: Up Close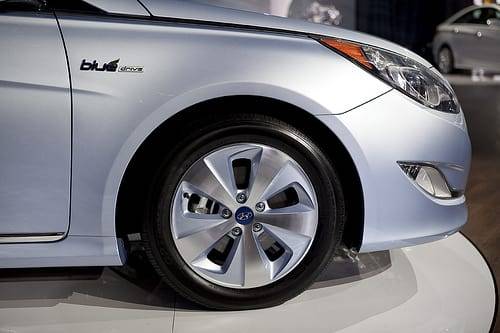 The Sonata Hybrid's enormous lower air dam changes the car's demeanor compared to the regular Sonata; viewed head-on, it looks like an entirely separate model. Some may not like that — the redesigned 2011 Sonata is a handsome bit of work — and I'm still torn on it. But the car's other elements, from the bluish headlight pipes to the taillights' three-dimensional rings, redeem it. A number of other areas have been restyled, including different wheels and sharper rear corners, and the sum total of changes makes the Sonata Hybrid considerably more aerodynamic than the non-hybrid Sonata, according to Hyundai.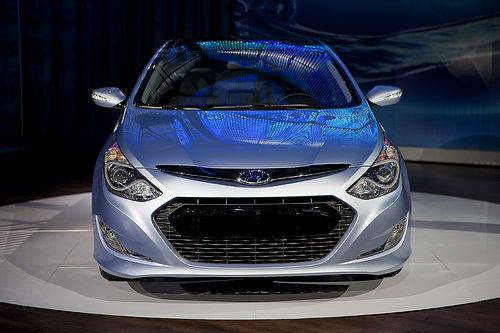 Inside, the Blue button — it's gray, actually, but it says "Blue" — on the steering wheel optimizes accelerator sensitivity and other drivetrain calibrations for better fuel efficiency, not unlike similar buttons in the Toyota Prius and Honda Insight. Alas, Hyundai spokesman Miles Johnson didn't have any estimation of how much the Blue mode affects mileage.
Between the gauges sits an LCD screen that's larger than the screen in the non-hybrid Sonata; though not as impressive as the Ford Fusion Hybrid's dual LCDs, Hyundai's still packs excellent graphics and a great deal of information, including an Eco Guide screen that turns a graphic of the earth from gray (you live to pollute) to blue (you're one with the meerkats) depending on your driving habits. There's also an Eco Level scoring system that awards points over a period of time for how well you're doing. Meerkats die if you score too low.