2011 Kia Optima: Up Close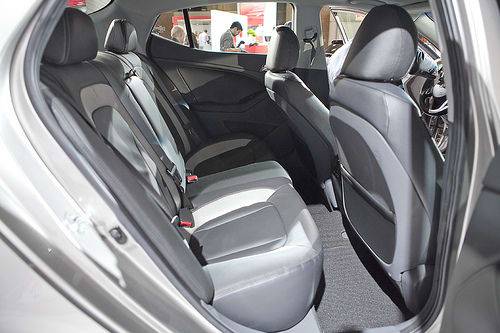 &&&&&EMBEDDED_ELEMENT_START&&&&& {"id":1420668674100,"originalName":"2015_03_04_17_02_21_031_http___blogs_cars_com__a_6a00d83451b3c669e201347fa955ac970c_800wi","name":"MMS ID 49040 (created by CM Utility)","URI":"/65/-1734632918-1425510141565.","createDate":"2015-03-04 05:02:21″,"metadata":{"AUTHOR":"automatic-content-migration","KEYWORDS":""},"href":"https://www.cstatic-images.com/stock/1170×1170/65/-1734632918-1425510141565.","description":"Came from https://www.cars.com/.a/6a00d83451b3c669e201347fa955ac970c-800wi","externalid":"49040″,"updatedby":"cmuadmin","updateddate":1425511472897,"associations":{}} &&&&&EMBEDDED_ELEMENT_END&&&&&
Wow. This is an impressive-looking car. With its creased sheet metal and low-slung shape, there's a luxury-car sophistication to the exterior of the Optima that you don't see in a lot of family sedans. Its rear quarter is one of its best angles, and despite its low roofline the interior headroom doesn't suffer.
Even though I like the overall shape of the Optima, I'm not a huge fan of the black mesh grille — it seems more pronounced than it needs to be. Unlike on the automaker's new Sorento crossover, the grille isn't broken up by a badge, which is instead positioned just above the grille.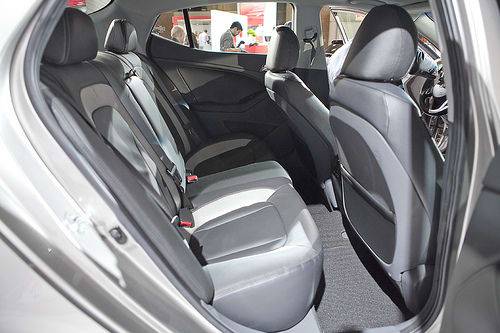 The Optima is big inside, too. Even with the driver's seat moved all the way back, which is further than I'd position it when driving (the power seats in the show car weren't active), backseat legroom was still OK, though my knees were close to the back of the front seat.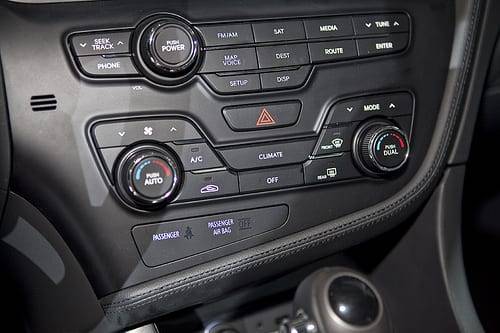 Interior quality is good overall, with the model on the show floor featuring details like stitching on the dashboard that just a few years ago were being trumpeted by luxury automakers in their new products. Kia didn't even highlight it in its presentation.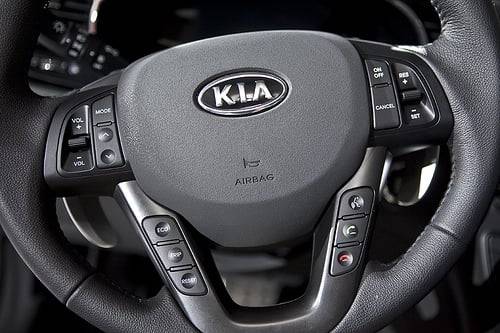 The steering wheel has a nice feel, and the Optima on the show floor had massive paddle shifters. It's nice to see that the high-grade elements such as real stitching and upscale materials carry over to the rear of the cabin, which is where you sometimes see interior quality drop off a little.