2011 Chrysler 300: First Drive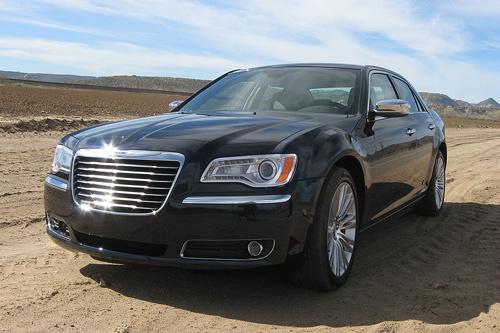 At a San Diego pier opposite the USS Midway Wednesday morning, Chrysler interior design chief Klaus Busse strutted in front of a 300C sedan. He motioned toward a warship steaming past the massive aircraft carrier, which is now a floating museum. "You see that battleship leaving?" Klaus asked the assembled journalists. "That's the sign of ugly gray stuff leaving Chrysler — and no more coming back."
I spent the next three hours driving the summary expression of Chrysler's 16-vehicle product renaissance: the redesigned 300, a car Chrysler calls its "most anticipated reveal." Busse is right; if the full-size sedan is any indicator of Chrysler's future portfolio then the automaker's battleship grays are as done as NFL quarterback Brett Favre.
The 300 won't make waves like its predecessor did, but it's impressive, particularly when you consider what the base model gets you.
Already a subject of controversy among our editors, the car's new styling doesn't depart much from before. The base car, which can be had for a tick under $28,000, looks far more upscale. Chrome bars along the bumpers effectively mask where the fog lights on uplevel models would go, and the car's C-shaped LED daytime running lights are standard. The 300's chromed taillights might be derivative … of a Rolls-Royce Ghost or a Bentley Mulsanne. I see this being a problem like Verizon sees a bajillion new iPhone users as problematic.
I never took much issue with the old 300's 3.5-liter V-6, which moved the car capably enough. Saddled with another 236 pounds of metal to move, Chrysler's new 3.6-liter Pentastar V-6 doesn't offer a world of difference, despite its 292-horsepower rating. The 3.6-liter 300 moves out quickly enough, with stronger power as the tach needle moves to the right. I look forward to Chrysler's eight-speed automatic transmission, which will grace the V-6 300 by year's end to the rumored tune of 30 mpg highway. The current transmission — a carryover five-speed automatic — upshifts smoothly, but it comes up stingy on the downshifts, particularly on curvy roads.
Step up to the optional 5.7-liter Hemi V-8 and the five-speed is no more responsive, but the engine erases much need for that. With prodigious low-end torque, the 363-hp Hemi propels the 300 as well as it always has — in 4th or 5th gear, no less. This is a proper flagship car.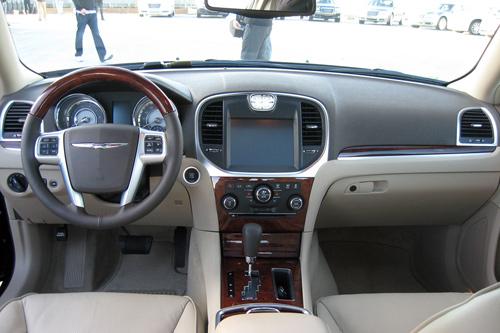 Ride quality, which is something the last 300 excelled in, remains good with either drivetrain. The suspension soaks up bumps well, isolating the cabin in quiet comfort most of the time. Alas, it's no match for the car's rear-drive balance. The 300 feels less nose-heavy than much of its front-drive competition, but charge hard into a corner and the base car pitches off-balance with mushy steering that inspires little confidence getting you back on track.
Optional 20-inch wheels and a firmer Touring suspension improve on this, with flatter cornering and quicker steering to suit the car's impressive dynamics. The 300 feels less like a sport sedan than, say, a Hyundai Genesis, but you'll drive more confidently with the Touring setup. The trade-off comes in a firmer ride — it picks up more rhythm over bumpy pavement — and higher steering effort around parking lots, but I didn't find either aspect objectionably bad.
Cabin materials are good, with padding all the way down to knee level and little of Busse's battleship grays. Chrysler's new 8.4-inch UConnect touch-screen is a worthy centerpiece. Standard on all 300s, it boasts a fast-paced interface with excellent graphics and minimal lag between submenus. Skip the optional Garmin navigation system, whose slow map scrolling and clumsy icons feel at odds with the rest of the system.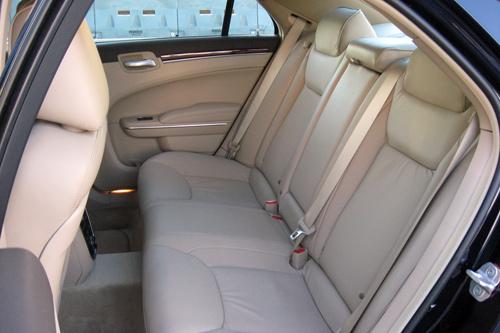 The rear seat has ample room, but it's not stretch-out comfortable like a Toyota Avalon. Conversely, the 300's 16.3-cubic-foot trunk trumps the Toyota's undersized compartment, though it falls short of the Ford Taurus' mammoth confines.

Overall visibility is better than before: Chrysler says the windows and windshield are 15% larger, and the windshield has been pulled back a few inches so you don't have to lean forward to see a stoplight. Visibility (or lack thereof) won't be a deal breaker, but Chrysler hasn't exactly turned it into a strength. The roof still hunkers low; the beltline still rides high. The 300 is no longer quite a pillbox, but it hasn't become a crow's nest.

Stay tuned for a full review where we'll dive deeper into all of these areas.