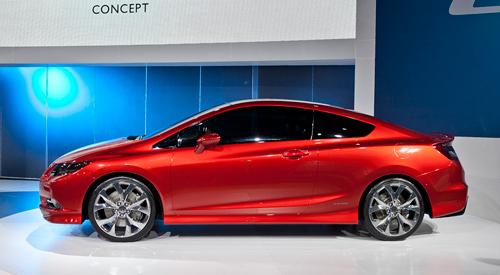 The auto industry is booming, and if you need more proof, check out the sheer number of concept cars at this year's Detroit auto show. Concepts had been largely omitted from the show circuit the past few years as a way to save money and focus on products people actually bought. Well, the good times are back again, and so are the concept cars. But should they be?
You can also check out which production cars won our hearts here.

---
David Thomas: Winner
Detroit showgoers will only get to see the coupe concept, as the sedan was shipped to another show in Canada, but the coupe is the more radical, with a very intriguing spoiler — a spoiler that may even make it into production later this year. It isn't a radical departure, but the Civic is a perennial best-seller with good looks. Why mess with it?

Joe Wiesenfelder: Winner
Agreed. The current Civic is still competitive, despite being relatively "old" in the market. Honda needs to dial it up in terms of interior, mileage and features, but the styling is probably best tweaked rather than overhauled. It would have been nice to see an interior, though. We expect to drive the production cars – both body styles, including the hybrid – in April, so Honda has some work to do, and fast.

Kelsey Mays: Winner
Provided Honda keeps the Civic's cabin materials top-notch, this was a good direction. The prior-gen Civic was the first design to really take, from a styling standpoint. The automaker hasn't messed with a good thing. If the gas-mileage claims pan out — 40 mpg or better highway from the base model — then the next Civic should be as competitive as ever.

Joe Bruzek: Loser
It's too bad that auto-show visitors won't be able to see the Civic sedan concept. The new styling hugs the sedan much better than the coupe. The coupe looks bulky, bloated and less athletic than the current car and sedan concept.
---
Ford Vertrek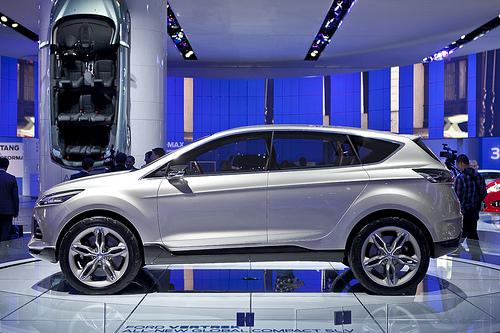 DT: Loser
Ford's future Escape sure looks good in person, but the size and dimensions of the rear make it look more of the size of the smallish Nissan Rogue and Kia Sportage. I'd like more visibility and a little more cargo room. Heck, make it a little bigger, and then you don't even need an Edge in the Ford lineup.

JW: Winner
I disagree with DT on this one — unless Ford takes his advice and dumps the Edge, which I wouldn't count on. There are too many Ford crossovers and SUVs, and making the Escape even larger would only aggravate the problem. As a concept, it's very cool looking and is sure to draw crowds at the auto shows.

KM: Winner
The Vertrek's planar styling doesn't do anything new, but the elements come together for a tight, cohesive design — much like the Kia Optima, incidentally. Visibility could be a problem, and it certainly won't be as good as it is in the current, upright Escape. But this could inject some differentiation into Ford's crossover welter. Rather than the tall, bladed grilles that populate the others, the Vertrek more closely resembles Ford's cars. At minimum, it's certain to polarize fewer shoppers.

JB: Winner
As a replacement for the Escape, this is win, win and more win based on looks alone. The Vertrek is a huge departure from the rugged appeal of the Escape and should be a very close indication of what the production model will look like.
---
Toyota Prius C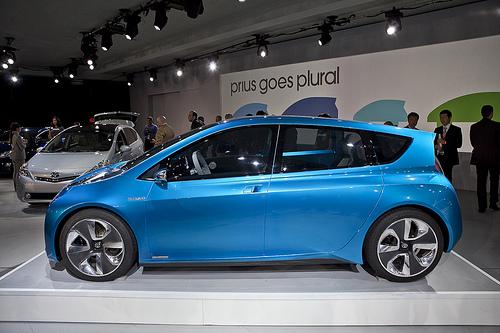 DT: Loser
Besides basically updating a concept car from last year's circuit, the Prius C doesn't look like the other two Prii (the official plural of "Prius," we're told). If you're going to depart from that look, try and be more distinct than this. I do like the small size, but it's clearly too short, with headroom for tweens only. Last time I checked, they're not old enough to drive.

JW: Loser
Yet another concept of a car that isn't here yet? We've seen this already. It was called the FT-CH last year, which stood for Future Toyota — Compact Hybrid. Bring it out already. Who are you, Chevrolet?

KM: Loser
I like what the Prius C represents, but it's too close to the FT-CH. Like Joe said, this one's long overdue to come out of the oven.

JB: Loser
If this pans out into a production car, it could be the most fuel-efficient non-plug-in hybrid on the market. Unfortunately, like JW mentioned, this concept doesn't make it seem like the idea is any closer to production.
---
Mini Paceman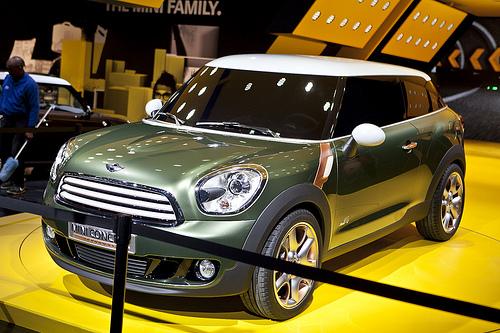 DT: Loser
I don't understand why they'd need a two-door version of the Countryman SUV, and the concept isn't as sexy as the standard Mini coupe or the concept versions of even sportier future models. Its only job is to fit an all-wheel-drive system into a two-door Cooper. That seems to be a sad excuse for an entire model's existence.

JW: Winner
I agree with everything DT says. There's no need for this model. But I like the look. Much cooler than the Countryman, and I'm a sucker for the floating-roof design, which is particularly effective on this white-roofed example. It recalls the Range Rover Evoque, which I love. I've become inexcusably superficial.

KM: Winner
So what if the Paceman is an excuse for more all-wheel drive at Mini? I'm excited about the prospects therein. The BMW-owned brand makes what are arguably some of the best-handling front drivers on the planet, so I'm intrigued to see what it can do with all-wheel drive.

JB: Winner
The Paceman will likely be one of the only affordable all-wheel-drive coupes; the rest are luxury cars. Coupes are almost always cooler than sedans, but I just wish the wraparound glass truly wrapped around rather than the C-pillar being painted black to give the illusion.
---
Porsche 918 RSR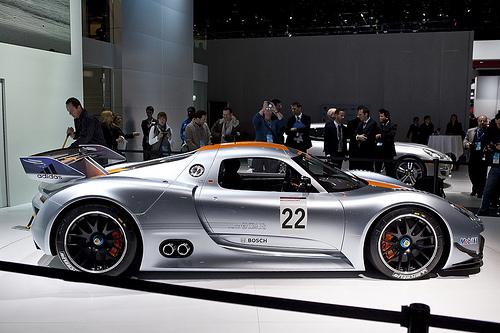 DT: Loser
If this were the coolest concept of all time, I'd give it a losing grade for being the reason why the first day of the auto show lasted 14 hours. The fact that it was a concept racecar with no ties to any production intent sealed its fate. The only angle I liked was the rear. It's "Porsche" enough for traditionalists, yet modern. It should be slapped onto the next 91, which hasn't changed much in decades.

JW: Winner
We'll never get any sympathy from our readers for getting up early to be among the first people in the world to see a new vehicle introduced. On its own merit, the 918 is a sexy track car, and it brings a freakin' electric flywheel that stores energy (in lieu of a battery pack) closer to market. How is that not a winner?

JB: Loser
I had to do a mental Photoshop doctoring of the 918 RSR to truly appreciate the shape and potential of the 918 form — the Spyder just doesn't do it for me. Without the numbers, stickers and giant wing, a 918 production coupe could have been one of the sexiest cars at the show you could buy. Too bad.
---
Hyundai Curb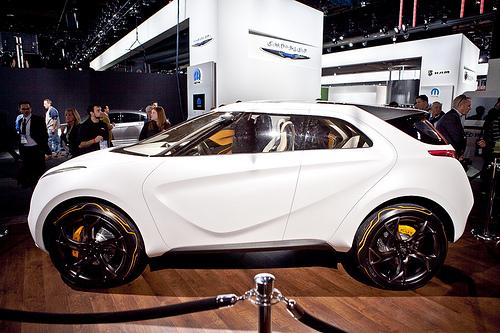 DT: Winner
The Nissan Juke doesn't make sense to me in terms of design or function. I don't think folks will be drawn to the supposed urbanized format of the Curb, either, but it is a heck of a lot better-looking than the Nissan. Although, I'll admit, I liked the Juke the first time I saw it, too.

JW: Loser
I have two problems with this thing: First, it's way too "concepty," and I no longer have use for concepts that aren't feasible. Second, Hyundai needs to be careful not to saturate its lineup. If the company hadn't introduced its Veloster at this show, I might have gotten behind the Curb. Accent, Elantra, Elantra Touring, Veloster, Tucson AND Curb? No way.

KM: Loser
Yes, Hyundai has reached critical mass with small cars. This would only complicate the mix. (One could argue that Toyota, Kia and Nissan have smallish hatches, too. My response: They've blown the doors off critical mass.) The dimensions are interesting, and I like how the wraparound rear glass floats off the C-pillars. But the interior looks like it's melting, or inspired by the masked killer from the "Scream" franchise. Or both. It's just plain bizarre.

JB: Loser
I looked at the Curb after checking out the Hyundai Veloster production car. Maybe that's why the Curb didn't do anything for me. The Veloster is ready to roll with some very concept-car-like features and styling, while the Curb seemed too far out there without anything really fresh to look forward to.
---
Kia KV7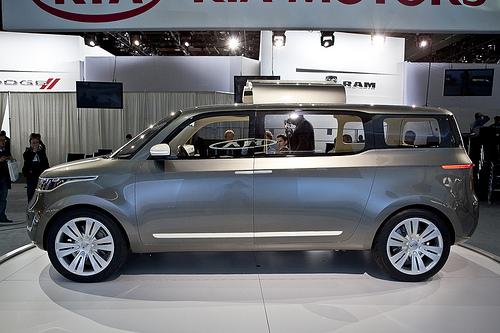 DT: Loser
Uh ... hmmm. ... Well ... what I can say is. ....

JW: Loser
As I said of the Hyundai Curb, it's too concepty. Beyond that, I echo what DT said. Or didn't.

KM: Loser
Vans are inherently space-efficient, so I want to support their proliferation, even in concept form. But this is nowhere near production status.

JB: Loser
If there's one thing I repeatedly read through readers' emails at Ask.cars.com, it's that they don't want to drive a minivan, and they don't want something that looks like a box. I agree.