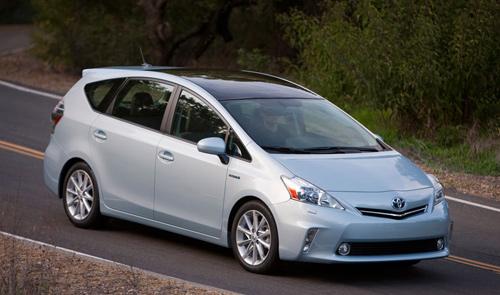 Competes with: Ford Escape Hybrid
Looks like: The Prius swallowed the pill that makes you larger
Drivetrain: 134-hp hybrid with 1.8-liter four-cylinder, continuously variable automatic transmission
Hits dealerships: Summer 2011
As much as people fawned over a hybrid racecar from Porsche earlier this morning, this is what everyone has been waiting for at this year's Detroit auto show: a new Toyota Prius.

This isn't a new version of the Prius hatch or the plug-in electric Prius hybrid that will be sold in select markets a year or more from now. No, we were waiting on this: a crossover/wagon called the Prius V. It will go on sale this summer with impressive mileage figures.
Toyota estimates it will get 42/38/40 mpg city/highway/combined. That's impressive for a vehicle this large. With 34.3 cubic feet of cargo space, Toyota says it has 60% more cargo room than the current Prius hatch. That's just a few cubic feet short of a Toyota RAV4's or Honda CR-V's cargo areas. It's now also big enough for dog lovers to cart around Fido in the back.
The V — for versatility — doesn't ride on the current Prius' platform; it's all-new from the ground up, Toyota says. The V is 181.7 inches long, which is a half inch longer than a RAV4 but 2 inches narrower. We've always wondered why the company didn't convert the popular RAV4 into a hybrid, but now we see that they wanted similar cargo volume, which would have been eaten up by a hybrid battery in the RAV4.
A panoramic moonroof is made of a resin material instead of glass for weight savings and has a shade to help keep the cabin cool.
There's an all-new interior that's paired with the familiar steering wheel of the Prius, but a new center stack of controls looks a bit dated compared to the snazzy graphics Chevy, Nissan and Ford are packing into their most efficient vehicles. It also seats five, not seven. This isn't an MPV as was rumpred before today.
At its core, the Prius V is simply a hybrid with a 98-horsepower, 1.8-liter four-cylinder engine and 80-hp electric motor. Combined, they're good for 134 horses, though a combined torque figure was not given. The battery is a nickel-metal-hydride one like what's found in the current Prius and not a lithium-ion pack that's used in the latest hybrids from Hyundai and Kia.
Like the Prius hatchback, 16-inch wheels are standard with 17-inchers optional.
The new Prius V goes on sale this summer. Its success will likely be determined by prices at the pump and families turned off by the lack of cargo in the Prius sedan.