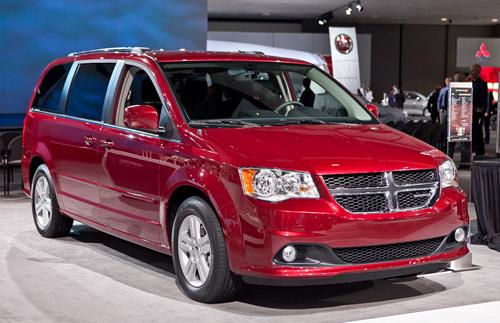 Chrysler will move forward with just one full-size minivan while creating a second "people mover" to appeal to shoppers who wouldn't typically invest in a full-size minivan, CEO Sergio Marchionne said this morning.

Because the Dodge Grand Caravan and the Chrysler Town & Country are so similar, "we're creating confusion in the dealer network," Marchionne said. And since Chrysler showrooms include all four of its brands, consumers are being asked to choose between two minivans that are structurally the same, "so you need to make a brand choice at that point in time," he said.

So which brand gets the minivan?
"If you look at sheer numbers, 80 percent of that market is Dodge and has naturally attracted the greater share of consumers," Marchionne said referencing the entire North American market. "Instinctively, you will try and protect your park."
The "people mover" that's planned would likely be a Chrysler vehicle, Marchionne said.
If you're a minivan fan, it's time to get excited, he said. "You're going to see some significant work being done on the Dodge brand to try and take some stigma away from the minivan," Marchionne said. "I think we can do some real cool things with the minivan."
And, he teased, "You'll be pleasantly surprised by having a European version of a minivan through the Fiat brand next year."
In other Chrysler product news, Marchionne said:
There will be a Caliber replacement shown at the auto show here next year. "The Caliber is not the most competitive C-segment offering. We need to fix it," he said.
The next Jeep Liberty will be built on a Fiat-derived platform. It will be Trail-Rated, and Chrysler is working to fix issues with the Liberty's weight and fuel efficiency.
Chrysler is already at work upgrading the just-released 200 and Jeep Compass to reflect "fully updated technology, powertrain and architecture."
A Maserati SUV will be built in Detroit and arrive in 2012. Based on the Jeep Grand Cherokee platform, it will have a drivetrain engineered by Ferrari. "It will be a rock 'n' roll engine, I can tell you that," Marchionne said with a laugh. The engine could be a V-8, a V-12 or both. "You may even have a souped-up diesel in there," he joked.
As PickupTrucks.com reported earlier, Jeep will have a truck-like model in the future.