EPA OKs E15 for More Cars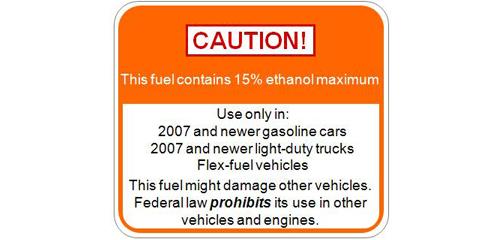 It's been more than 30 years since the Environmental Protection Agency allowed a fuel mixture of 10% ethanol and 90% gasoline in America's vehicle fleet. Today, the federal agency took steps to increase the ethanol mix even further.
The EPA has granted a partial waiver for the use of E15 in vehicles from model years 2001 to 2006. This comes after an October announcement that allowed the use of E15 in vehicles from the 2007 model year or newer.
Both actions waive Clean Air Act controls for E15 as it relates to the increased emission levels the ethanol will produce. The EPA points out that neither waiver decision will require introducing E15 at the gas pump, but that the act merely enables that potential.
The 15% ethanol mixture will work fine in cars from the 2001 model year or newer and in medium-duty trucks of the same model years, according to the EPA. There has been a concern that a higher ethanol blend could damage car engines. The EPA says the E15 mixture shouldn't go into motorcycles, heavy-duty trucks, boats, snowmobiles, lawn mowers or vehicles from the 2001 model year or older.
Needless to say, vehicles that can't use E15 make up a sizeable chunk of U.S. transportation, and the EPA knows this. The agency came up with a label (shown above) that is intended to prevent drivers from using the wrong fuel.
The EPA's decision isn't a mandate to have the mix in all fuel, such as the E10 blend. Producers, distributers and stations will make those decisions. We doubt there will be any consumer demand for such a fuel, and the cost to add pumps at gas stations is extreme.
The EPA passed this measure after 54 ethanol manufacturers applied for a waiver to increase the amount of ethanol consumption. Manufacturers were required to boost the amount of biofuel production, such as ethanol, in 2007 under the Energy Independence and Security Act, according to the EPA.
Republican and Democratic senators have questioned the move. Earlier this month, Republican Sen. Susan Collins of Maine and Democratic Sen. Benjamin L. Cardin of Maryland joined six other colleagues in sending a letter to EPA Administrator Lisa Jackson urging the agency to reconsider the measure, according to the Ethanolmarket.com. The senators cited the concerns of misfueling, which could damage some 200 million engines in use today. Collins said the move would "unnecessarily [add] confusion at the gas pump for consumers."