Ford Vertrek Concept at 2011 Detroit Auto Show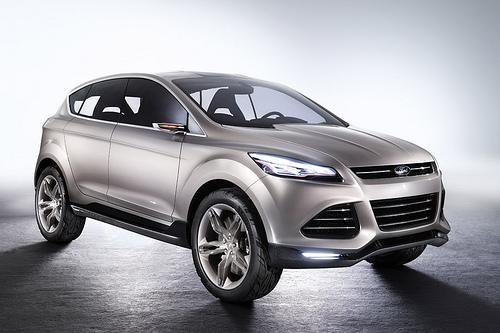 Looks like: Ford's take on the Kia Sportage
Defining characteristics: Swooping windshield, concentric pipe lighting, glass roof panel down the center
Ridiculous features: Light-piping for headlights and taillights, carbon fiber accents
Chance of being mass-produced: Count on it — this will be the next Ford Escape
Unbeknownst to most Americans, Ford sells a rather modern compact crossover overseas called the Kuga. We tired, poor, huddled masses yearned for more than the warmed-over Escape — slightly distinct from the original but still blocky enough to be regarded as ancient. That won't be the case going forward.

Chief designer J Mays said the Vertrek "is not a production vehicle," but it looks close to production ready. At a media briefing last month, Mays compared the concept to the current Kuga and Escape. At 73.8 inches wide and 178.5 inches long, the concept is a few inches longer and wider than both.

With a steeply raked windshield, thin lights and a rugged, high-fender stance, the Vertrek looks similar to Kia's new Sportage. The headlights and taillights feature concentric pipes of light – very cool up close, but the sort of thing that probably won't make it to production; the carbon-fiber accents atop the tailgate or the concept's 21-inch wheels probably won't make it, either.
Inside, the dash blends visually into the side mirrors, with terrace-like hoods over the instruments and center controls. A narrow glass panel runs the length of the ceiling, similar to the Skyview roof on the prior-generation Nissan Maxima. Ford touts a panoply of efficient technologies, including regenerative braking and automatic engine shutoff at idle. Ford says the crossover could be powered by a 1.6-liter turbocharged four-cylinder engine that could lead to segment-topping gas mileage.
The general profile could prove problematic for visibility, what with the concept's wide rear pillars and a smallish rear window. There looks to be a fair amount of cargo depth behind the second row, though the area doesn't seem particularly tall.
Will the Vertrek concept, in its eventual production form, replace both the Escape and the Kuga? Given Mays' talk of fusing American shoppers' desires, like towing capacity, with the larger wants of a global consumer, the smart money says yes.

Given Ford CEO Alan Mulally's penchant for keeping high-recognition nameplates around, we don't expect the next Escape to adopt the Vertrek name.