GM Wants More Volts, Already Building More Trucks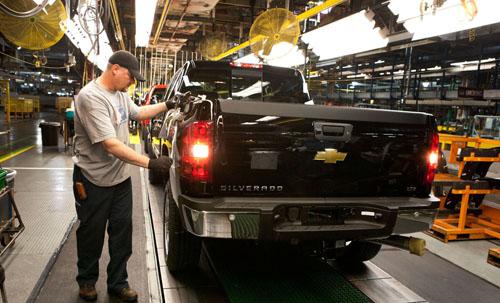 Word broke Monday that General Motors was contemplating yet another boost of the Chevy Volt's production targets, in anticipation of a likely spike in gas prices. But on the same day of this fortune-telling, the automaker officially announced immediate actions to boost production of its more popular gas-thirsty heavy-duty pickups.
GM is trying to meet demand for its Chevrolet Silverado and GMC Sierra 2500 and 3500 Heavy Duty pickups by adding an extra shift in the second quarter, according to PickupTrucks.com. GM is trying to nip any of the potential supply constraints, like the ones that happened with its SUVs and small crossovers last summer. The resigned Chevrolet Equinox and GMC Terrain simply couldn't be built fast enough to meet the demand. Months later, the plant has added capacity, and the two vehicles have seen a 60% increase in sales, for three consecutive months.
GM's worries over the Volt are probably valid down the line, too. GM CEO Dan Akerson says the company doesn't want to be "caught flat-footed" like it was in 2008. According to Bloomberg, Akerson is trying to anticipate a rise in gas prices — GM believes oil prices could go as high as $120 a barrel, up from the current sub-$90 price — and what that might do to future demands.
While the Volt has been on sale only for a month, GM wants to double production of the model by 2012, up to 120,000 units a year, according to Bloomberg. GM had planned to build 10,000 Volts in the first year and 45,000 in 2012; now it's 25,000 for 2011 and more than 60,000 units in 2012. GM is also exploring the possibility of adding the Volt's Voltec drivetrain to more models, such as a minivan, which we probably got a glimpse of with the Volt MPV5 Concept. The Volt's sales numbers may be wildly optimistic, considering the Toyota Prius barely sells above that level and that vehicle is significantly cheaper, but it's better to prepare now rather than miss out on potential new buyers in the same way they did with the Equinox and Terrain.