Hyundai Curb Concept at the 2011 Detroit Auto Show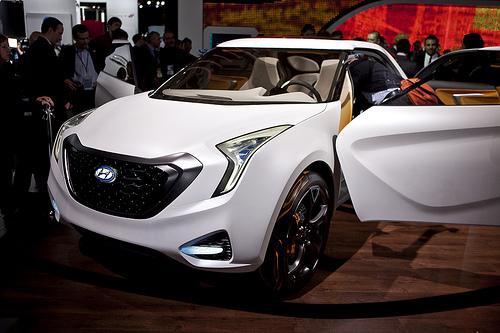 Looks like: Hyundai designed a better Nissan Juke
Defining characteristics: Hidden roof and bike racks
Ridiculous features: Illuminated nameplate on the rear deck
Chance of being mass-produced: We'd say 50/50
Some concept car features — like a space-age interior, pop-up roof racks and an illuminated nameplate on the rear hatch — aren't ready for a production car, but the overall concept of a small crossover for city dwellers is all too real. Nissan has the new Juke, Kia has the Soul, and Scion has the xB. The Curb concept certainly leans closer in spirit to the Juke.

We're not sure the U.S. is ready for yet another vehicle like the Juke, but if this is a segment of the future, Hyundai has an excellent design ready to go. Inside is a touch-screen that seems to flow throughout the entire dash, a similar effect to an infinity pool. Our recent experience with touch-screen controls makes us worry that this particular concept feature could see the light of day. It looks cool at least.

Power plants aren't an essential part of a concept car, but this one features the same highly efficient 1.6-liter direct-injected engine from the production Veloster, which promises 40 mpg highway. The concept "specs" say 30+ mpg city, 40+ mpg highway. Estimated, of course.

When the day is over, a funky design can sell easily, but it needs a basis in value like this particular power plant delivers.
More photos below.