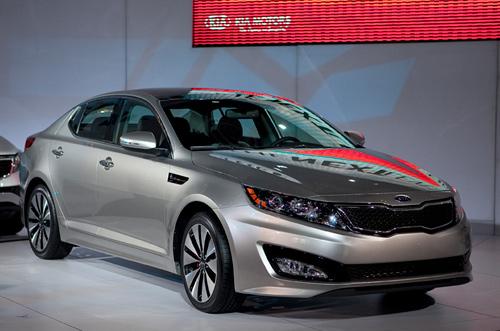 The past year has seen the automotive industry rebound from bankruptcies and an economic crisis with an outpouring of new and redesigned models, with electric cars stealing most of the headlines.
Out of the dozens of newly introduced or redesigned cars, our experts have chosen the Kia Optima as the "Cars.com Best of 2011." Here's a peek at what our experts had to say about the Optima:
"The Optima delivers outstanding fuel efficiency and a good driving experience – better on both fronts than the [Hyundai] Sonata. The smaller Chevrolet Cruze was the strongest runner-up in our voting on this award, but the Cruze's impressive gas mileage comes with only one of its five trim levels. The fact is, the Optima's mass-market drivetrain — a 2.4-liter four-cylinder and six-speed automatic — renders 27 mpg in combined EPA city/highway ratings, and you can get that in the mainline LX and EX trims. That matches the most efficient four-cylinder competitors; you'd have to get a hybrid family sedan to beat it."
The Optima edged out these five other outstanding nominees:
BMW 5 Series
Chevrolet Cruze
Chevrolet Volt
Honda Odyssey
Nissan Leaf
Get all of the details here.