Reader Review of the Week: 2011 Hyundai Elantra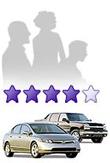 If you're somewhat surprised that we already have consumer reviews of the redesigned 2011 Hyundai Elantra, you shouldn't be. With nearly 3,000 units in our online inventory, the car's launch is aggressively under way. "Rossonero" of San Leandro, Calif., did a lot of research before choosing the economy car and decided the Elantra was the right buy because of its roominess and good fuel economy. There are a few gripes, though. Check out the rest of Rossonero's impressions below. Once you're done, write a review of your own car here.
"I did a lot of research before deciding to buy a Hyundai and decided on a 2011 Elantra weeks before they actually came out. I test drove one and decided that this was the model I wanted (though I didn't buy the one I test drove; it didn't have navigation). I ended up with a GLS with Navigation. I would have loved to have gotten a Limited, but it was just out of my price range.
"Pros: Love the exterior design and color (Desert Bronze). Two features I didn't really care about have turned out to be two favorites, voice recognition and the rear camera. If I had the option of getting navigation and Bluetooth without them I would have, but voice recognition makes making phone calls and using the GPS way easier, and parallel parking/backing in are a breeze when you have a rearview camera.
"The mileage could conceivably be in the upper 30s. I haven't had the chance to get on a flat freeway with it yet. But from the little I gauged on a flat stretch, I will get at least 34 (mpg).
"It's roomy inside for a compact and has plenty of space for things, though with the USB connection, the things that took up the most space in my old car (CDs) aren't even needed. The sound is good, and satellite radio is fun, though I doubt I'll keep it after my free 90 days are over.
"Great warranties on paper. Obviously it's early for me to say how well they work when there's an actual service need.
"Cons: I was surprised that there is no blinking light inside indicating the car has an alarm, maybe thieves now know that new cars generally come with them. Anyway, I bought a $5 blinking light from Radio Shack which should solve that.
"The GPS seems to be missing quite a few locations (i.e. restaurants, stores), and not necessarily new places that haven't been listed yet, either. I've been able to find places on my cell phone GPS that the Elantra's apparently has no record of.
"The car didn't come with a spare tire (to cut down on weight, a means of getting the gas mileage up to 40), though there is room for a spare (I'll be buying one) and a tire repair kit.
"It does gauge your average mileage back to where you re-set it. I would have preferred something like in my Dad's car letting you know your current mileage at any given second.
"But the good by far outweighs the less good, and I'm very happy with my purchase. I highly recommended this car!"