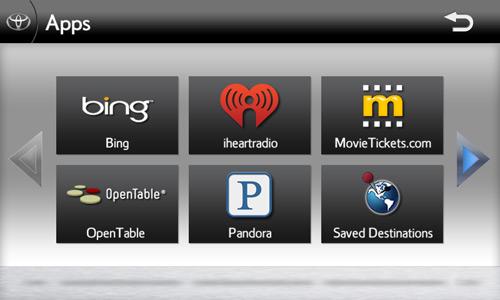 Ford's success with its Sync multimedia system has already spawned competition from Chrysler, GM and Kia, with Uconnect, Onstar and Uvo, respectively. Today, Toyota joined the pack with its new Entune system.
Entune is Toyota's new multimedia interface that combines previous disparate offerings, such as XM satellite radio and navigation functions, into one cohesive system.
Entune takes a different approach to in-car multimedia systems. Instead of duplicating many of the functions your smartphone can do, Toyota's system is intricately tied to the device. Once you download the Entune application to your smartphone, you can use the interface on Toyota's touch-screen display. The system is composed of multiple apps, Microsoft Bing search and a voice-recognition system that Toyota says is best in class.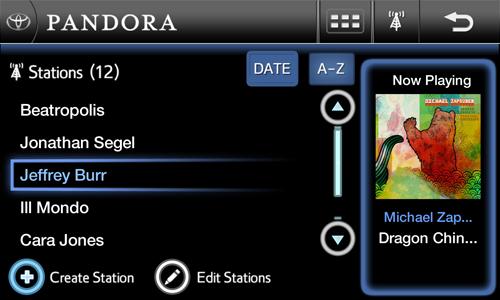 The Bing app service interacts with Toyota's navigation system by continuously updating it with new points-of-interest information from Bing Maps. An app called Inrix can supplement your navigation system with real-time traffic updates that are "crowd sourced" from more than 3 million cars on the road. Other apps will allow you to use Bing to search and buy movie tickets, make restaurant reservations and check gas prices, weather, stocks and sports info.
The Entune music app, called iheartradio, combines all accessible music from XM satellite radio, Pandora, your USB-connected music player or your Bluetooth-enabled smartphone using Bluetooth audio streaming. Toyota also said it will introduce HD Radio to some of its vehicles this year. That system will also be integrated into iheartradio.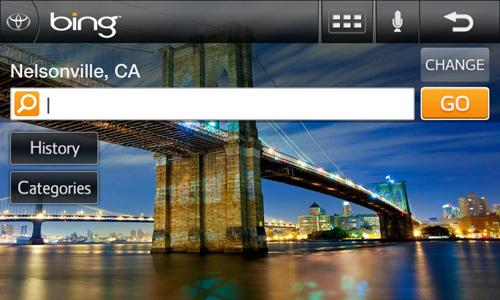 All of these apps are supposed to be easily accessed through Entune's voice-recognition system, which Toyota says can be used in a conversational way that's less dictatorial or scripted as other systems. It will also read back text messages.
Since the Entune system is tethered to a smartphone, you'll need a compatible handset and, most importantly, a strong signal. This means you could lose your Pandora stream or the Bing search function during a road trip.
Toyota's HD radio, GPS navigation, Bluetooth audio streaming and XM satellite radio systems should work regardless of your phone's signal.
Toyota hasn't announced which phones will work with Entunes, but considering Toyota's close relationship with Microsoft on this project, we'd assume Windows Phone 7 users will be covered. The system will be offered as an option on several Toyota models this year.