Toyota Prius C Concept at 2011 Detroit Auto Show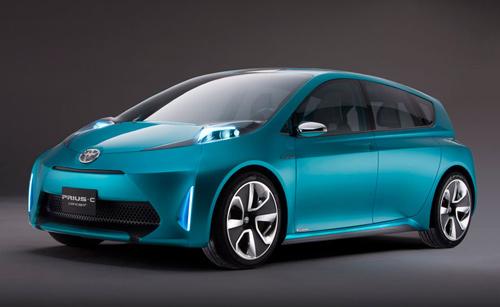 Looks like: A small urban compact that could be called a Scion
Defining characteristics: Proposed mileage higher than any hybrid
RidiculousFeatures: Why wasn't this the first hybrid ever introduced?
Chance of being mass-produced: 100%
During an auto show with few surprises, this one was well-guarded. Toyota's plan to launch a line of Prius vehicles was well-established, but this future look at a third body style — the well-known hatch and just released V being the other two — is a revelation. Some thought it might be a small pickup truck or small coupe, but instead we get a somewhat frumpy compact.

Since the Honda CR-Z hasn't set the sales world on fire, perhaps this is the safer, smarter route for Toyota on their next hybrid.

Toyota says this C, which stands for city — we don't know the exact dimensions — will return the highest mileage of any "cordless" hybrid. Meaning, it wouldn't compete against a plug-in electric hybrid like the Chevy Volt or the one Toyota announced alongside the Prius C. The Volt returns 93 mpge, a new designation from the federal government regarding vehicles that use both plug-in power and onboard gasoline power.

Toyota is promising this Prius C by the first half of 2012 and says it will be the most "value-oriented" hybrid on the market. That generally means the cheapest. More photos below.